If you are thinking about getting a premium motorcycle jacket, this ILM motorcycle jacket review is just for you. As you are buying a motorcycle jacket you need to be extra careful.
Motorcycle jackets are more than just outerwears. It is an important piece of equipment for any biker to own. Whether you are a casual rider or a professional racer, you can not ignore the benefits of wearing a motorcycle jackets. Having said that, it is useless if it lacks safety and comfort features. That is why we have chosen to review ILM motorcycle jacket- one among cheap motorcycle jackets for review.
Motorcycle jackets must be designed to be comfortable, durable and aesthetically pleasing. They must protect riders against the elements like rain, snow, wind, sun and provide insulation against cold temperatures if needed. Motorcycle jackets can be worn with any outfit for a cool vibe look or make the perfect addition to an already complete outfit. Let's find out whether this ILM JK41 motorcycle jacket fulfils the above mentioned aspects to become the best motorcycle jacket.
JK41 ILM motorcycle jacket review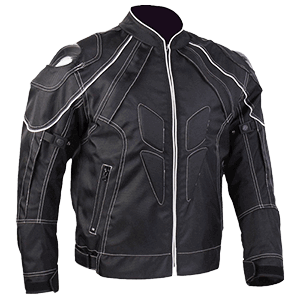 Zip and Velcro Functionality
If we start from the front side this ILM JK41 motorcycle jacket, it has strong front zip as usual like every other motorcycle jackets. As far as sleeves are concerned, there are velcro straps on the end of the each sleeves around the wrist. You can loosen or tighten the end of the strips with the help of these straps. Not only this, this functionality gives you freedom to make this jacket tight fit according to your convenience. This helps you to prevent the blow of wind enter into the sleeves when you are riding on your motorcycle.
Besides the wrist tightening straps ILM JK41 motorcycle jacket offers you bicep tightening clasps. Using these these clasps you can tighten the bicep of the jacket so that that no extra fabric flap in the wind when you are riding. There is a zipper under the velcro strap so that you can expand the end of the sleeve. This makes you the able to use gloves or any other things easily by tucking them into your sleeve.
Inner Liners
ILM JK41 also offers a detachable inner lining for you that makes you able to ride in winter and summer. To detach the lining, simply unzip it from the inside and then unclip the sleeves from the clasp located in between the outer shell of the jacket and the inner shell of the jacket and pull. More than the wrist tightening straps there is also a waist tightening strap allows you to tighten the jacket down more.
Ventilation
Ventilation is a very important factor when you go for a motorcycle jacket. In ILM JK41 motorcycle jacket, there are air vents on each of the shoulders. Also, there are vents on both of the arms. In addition to it, two vents are added at the back of this jacket. This increases the breathability of this jacket.
Protection Ability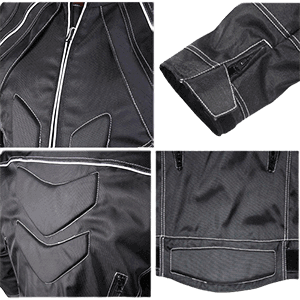 As far as the protection quality of ILM JK41 motorcycle jacket is concerned, there are strong and protective paddings on every vulnerable body parts. There is padding on the chest to protect it from the impact. There are two carbon fibre shoulder pads. Also, there is a carbon fibre elbow and forearm pad located inside the lining of the jacket. There is a waist pad as well as two back pads with ILM JK41.
The jacket also comes with an extra insertable pad for your back. Placing this extra pad is very simple. First of all unzip the inner liner. You can see there is velcro fastened strap that you can unfasten to reveal a hole. Insert the pad into the hole velcro. Zip your lining back into the jacket and in this way you are ready with an extra protection for your back.
Visibility
Visibility is one of the most important factor for safety when you are riding on your motorcycle. Visibility of the helmet and the visibility of the jacket both are necessary for your safety. Specially when you are riding at night.
This ILM JK41 motorcycle jacket has the florescent white strip. It goes all along the entirety of the jacket to make sure that you are seen at night very easily.
Pockets
This ILM motorcycle jacket is equipped with one inside pocket and two waist pockets. These pockets are enough for you to keep necessary things when you are on your motorcycle.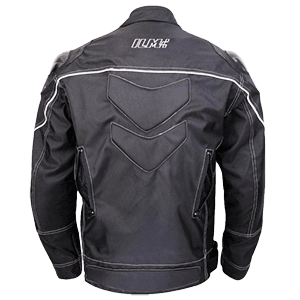 C.E. Approval
The armors used in spine and elbows are C.E. approved. It means that ILM made these parts that are in accordance with the safety and protection standard of European Conformity. This ensures that this ILM motorcycle jacket safe to use while riding.
Q and A Regarding ILM Motorcycle Jacket Review
Why should you wear ILM Motorcycle Jacket?
Mishaps can happen any time. No one can predict it. Therefore, it is better that we should be well equipped with protective gears. Luck can not always be there to protect you. However, if you have the right gear on, the damage will be minimized and may not even happen in the first place.
ILM JK41 motorcycle jacket has carbon fibre shoulder pads and elbows to protect you from the impact. There is also enough chest protection padding to protect the chest portion. Also, there are waist and back paddings.
Is there ease of movement with ILM JK41 motorcycle jacket?
Sometimes, motorcyclists need to move quickly across their bikes. Or when they need to adjust something with them or make hand movement when they are riding motorcycle. They cannot do that while wearing bulky jackets that will restrict their movement. A good motorcycle jacket gives the riders the protection without restricting their movements at all. ILM JK41 motorcycle jacket has a slim design and has adjustable Velcro straps so that you can make your comfortable fitting before you go for riding your motorcycle.
What are types of motorcycle jackets based on fibre?
Motorcycle riders wear different types of motorcycle jackets for various reasons. There are three types of motorcycle jackets available – textile, leather, and microfibre. Textile jacket is cheaper but not as durable as other two options. Leather jacket is more expensive but it provides better protection against accidents and it doesn't itch or snag on other clothes. Microfibre is least expensive option but it doesn't provide much protection either so it's used mainly for aesthetic purposes.
Final Words
While riding a bike, the rider should always wear protective gear like a helmet, boots, gloves, jackets and trousers. The ILM JK41 jacket is one of the prominent and safe gear among these protective gears. This motorcycle jacket is made of high-quality material to provide the rider with protection with all its paddings and ventilation. It is worth mentioning, it is one of the best cheap motorcycle jackets with armor. The purpose of this ILM motorcycle jacket review is to let you know all about this protective motorcycle jacket so that you can take a right decision.