A motorcycle helmet with removable chin guard can be a good idea if you get one with safety feature. Luckily, there are few brands out there to fulfil your wish. Before going ahead, let's decide what category of removable chin bar motorcycle helmet you are looking for.
In first category, motorcyclists need to remove chin guard totally off the motorcycle helmet.
The second category is where people want to remove chin guard off their chin by flipping it up. In this case there is no need to detach chin guard from the helmet.
Here we will talk in detail only about motorcycle helmets with detachable chin guard. We have chosen some such helmets you are searching for. They are smart looking, trending and having good protection quality. They give you freedom to make your motorcycle helmet full face, 3/4 or open face with removable chin guard.
Top 5 motorcycle helmet with removable chin guard
Bell Broozer Motorcycle Helmet-Removable Chin Bar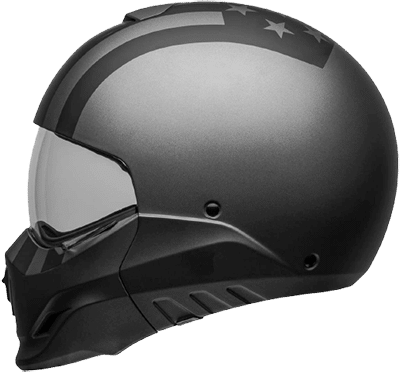 This helmet is a modular helmet by the famous brand Bell. You can enjoy the use of this helmet as a full face helmet. You also can use it as open face helmet making it 3/4 by detaching the chin guard. This helmet not only give the freedom of use but also protects your head with full strength.
The shell is made of high performing thermoplastic materials. Polycarbonate and Acrylonitrile Butadiene Styrene are combined together to make its shell strong and protective. It promptly protects your head from impact energy.
The Helmets has dual density EPS liner to give to softness and comfort. It also plays an equal important role in absorption of impact.
As far ventilation is concerned, there are two top vents. One at centre of the chin bar and another on the top of the helmet. There is also a minor pair of air vents for a better ventilation.
The helmet is provided with a dark tinted shield and a clear shield. You can use them according to your convenience. There is no special button for it to push up or down. You have to do it holding your hand.
The removable chin guard of this helmet is made up of the same material used in shell. That is really a good side of this helmet because it protects you in case of any mishap.
It is approved by DOT and meets the FMVSS 218 safety standards. It is a good motorcycle helmet with removable chin guard at moderate price.
ScorpionEXO EXO Covert Helmet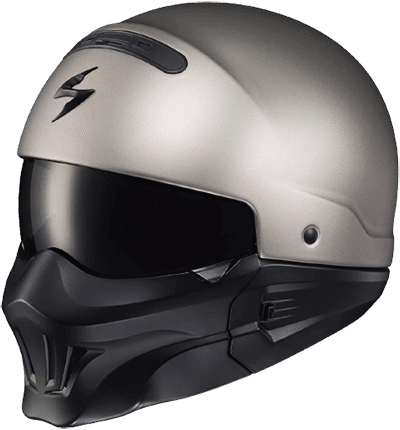 This is second one in the list of removable chin bar motorcycle helmet. ScorpionEXO is popular for innovative helmet ideas that fits for the new age. Though this helmet is classified as half motorcycle helmet, you can enjoy as a full face helmet.
The shell body is made up of advanced LG Polycarbonate material. It is lightweight but a strong substance to fight against impact energy. The helmet has DOT approval and meets the FMVSS 218 standard. This ensures the safety and protection of the rider.
The helmet has dual density EPS liner which is made of anti-allergenic and moisture wicking material. This way it not only protects from impact but also protects from allergies comes with sweating. The cheek paddings are soft to give you comfort all the way through your riding.
The ventilation is surprisingly well in this helmet. The aero-tuned ventilation system give you good airflow inside to keep you cool. The front air vents that lie mainly on face shield and the top vent are designed for maximum ventilation.
The helmet comes with a lightly and a dark tinted visors to protect you from sun rays, dust and bugs. It is advisable to buy a clear visor for night ride, otherwise you can use a lightly tinted visor.
Talking about the chin guard of this motorcycle helmet, it is totally removable. It is made of plastic but lined with EPS. It is of course your choice if you sometimes remove it but for full protection it is not recommended.
So, overall the helmet is good with its robust look and protection features. It can satisfy your quest for motorcycle helmet with removable chin guard with its features.
ILM open face 3/4 Half Helmet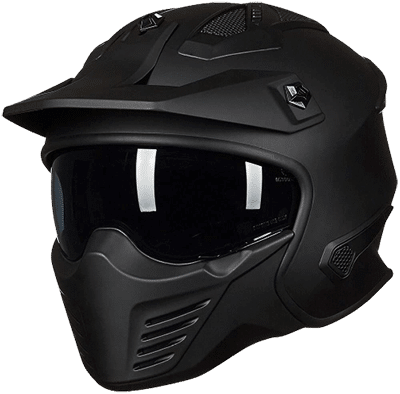 This is an another helmet in this category with low budget. If you want just to fulfil your wish of having a motorcycle helmet with removable chin guard, then it is best for your. By spending few bucks you have all the freedom of helmet use as open face or 3/4 helmet with chin bar.
The outer shell of the helmet is made of ABS material. This is a strong and lightweight material which makes the helmet safe and lightweight. There is soft EPS foam shell inside the helmet for comfort and impact absorption. The cheek pads are totally removable and washable.
The helmet has a sun visor on top and a tinted visor. The top sun visor is easily removable. You can also tilt up or down this visor according to your convenience. The tinted visor is retractable. You can pull down or push up easily. This tinted visor helps you to protect your face and eyes from the harsh sun, dust and bugs.
The ventilation system of this helmet is super cool. There are two vent ports on the top of the helmet. These vents have flips to open and close. There are two vents at the backside of the helmet to exit the humid air formed inside the helmet. The chin bar also have vent openings which you can switch on or switch off.
This motorcycle helmet is provided with a removable removable chin guard. It is pretty easy to remove this chin guard with the help of buttons given on both sides of the chin guard. This way you can turn this helmet into an open face helmet to enjoy full air flow. The chin guard have also ventilation openings which we have discussed before. That's what you find in motorcycle helmet with removable chin guard.
The helmet have got DOT safety standards approval and it meets or exceeds FMVSS-218. This ensures the safety features of the helmet.
Nolan n70 2x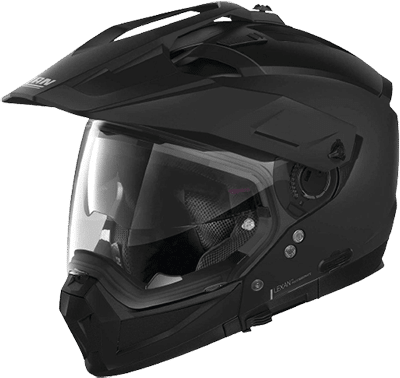 It is a versatile full face motorcycle helmet with removable chin guard. This helmet is suitable for all seasons, may it be summer, winter or spring. The structure and protection quality of the helmet is worth its price.
You can use this helmet in six different configurations. You may personalise this helmet with addition or removal of the chin bar, base shield or large peak that comes with Nolan N70 2x.
You can use the chin bar and face shield to make it a full face helmet. If you use just the peak and chin bar for good air flow during your ride you get the same protection.
Nolan N70 2x has Lexan polycarbonate shell that comes in different colors and sizes. Because of the material used in the shell the helmet is lightweight as well as strong for protection.
The helmet has airbooster airflow system which is an amazing feature of this helmet. The air vents in chin bar, top air vent and rear vent give a proper circulation to the rider.
The face shield and the inner sun visor give full protection against sun rays and debris. The face shield is ultra wide which provides wider vision. It is equipped with pinlock which is anti-fog. The inner dark visor is UV400 to protect your eyes from ultra violet rays. It is anti-scratch, anti-fog and treated with Lexan.
This helmet has special arrangement for B901L, B901R, B601R, N-Com systems for communication. This facility for communication gives this helmet extra points.
The helmet has chin guard which is totally removable. There are up and down type buttons on chin bar for removing and fixing.
This helmet is laden with features and has safety certificate DOT FMVSS No. 218. If you are going to get a removable chin bar motorcycle helmet, you surely can think about this helmet.
Spada Duo Motorcycle Helmet with Removable Chin Guard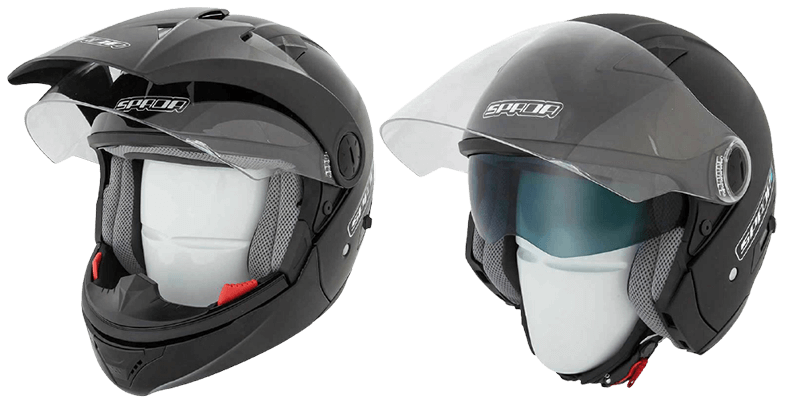 This helmet is also an amazing helmet in this category full of features. This is a modular helmet which give you choice to use it as full face or open face. The adventurous look of the helmet absolutely fits in the trend of new era helmets.
The shell is of high level thermoplastic which gives lightweight and strength power. The EPS foam liner inside takes care of your comfort. Not only that, it promptly absorb the impact energy. The cheek pads and central pad is soft and quite thick. They are removable and washable to keep them clean and neat.
The helmet has ventilation ports at three points. The front and top ventilation ports keeps the circulation of air constant. It helps you feel cool even in hard drive in hot days. In short, you won't have any issue specially for ventilation.
The front visor and the tinted visor of the helmet give you full protection from wind, rain, sun rays and dust. The tinted sun visor is very useful when the outer visor flip up to protect your eyes. This is drop down visor you can use as per your requirement.
The motorcycle helmet has a removable chin guard giving you freedom to make it open face and full face. There are flip buttons with the help of which you can remove or reinstall the chin bar.