Whether you are a new or old glasses wearer, I am sure, you are going to struggle while finding the best motorcycle helmet for glasses wearers. As a newly glasses wearer, when I was trying to buy a motorcycle helmet, some things always went wrong. I often thought of wearing a helmet, but what to do with my glasses? Should have I taken them off while wearing a helmet? Or are there some helmets really made for glasses wearers?
The answer is yes. After a long research and experience I made a list the best motorcycle helmets for glasses wearers. This list includes only glasses friendly full face, modular and half motorcycle helmets.
Why glasses friendly motorcycle helmet?
It is a discomfort experience for many people who wear glasses and have to wear helmets. In many helmets, the padding near the temples is so tight and hard that you can not insert the google. In some cases the temple area is so loose that the glasses often slide towards nose. Front face area of some helmets is so narrow that it is difficult to accommodate big size glasses.
To overcome above mentioned problem, you will have to choose the best motorcycle helmet for glasses. Such helmets have space, cuts or channels for spectacles.
15 Best Motorcycle Helmet For Glasses
Here are the selective models of motorcycle helmets for glasses that will meet your requirements as a spectacle wearer. Our expert team has devided these helmets into following three categories.
A) Best full face helmet for glasses wearers
1Storm Motorcycle Full Face Helmet
B) Best modular helmet for glasses wearers
C) Best open face helmet for glasses wearers
Pretoee Open Face Motorcycle Helmet
TRIANGLE Open Face Motorcycle Helmet
A) Best full face helmet for glasses wearers
Bell Qualifier DLX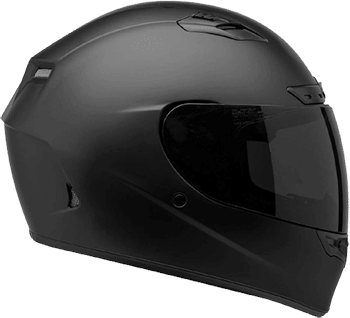 Bell qualifier is the best motorcycle helmet for glasses wearers. Apart from space for glasses, this helmet has strong ABS shell, stylish design, adjustable ventilation system and comfortable interior. This premium quality featured helmet is available in an affordable price. (If you interested in affordable helmets then you can check here)
Its strong, protective, and durable polycarbonate shell is its prominent feature. Apart from its robust build, the helmet is considerably lightweight as compare to other. The helmet comes in three shell sizes, so you can choose from small to large according to fit and convenience. The face shield of the helmet is scratch resistant and saves you from dust, bugs and flying objects in the air.
The helmet has padded wind collar to block and reduce wind as much as possible. It really helps to minimize the road noise and mainly the sound made by blowing winds when you drive at high speed. In addition, there are also some pockets in which you can easily place your Bluetooth headset for an entertaining journey. With this helmet, you can use the glasses more comfortably and confidently.
ScorpionExo Unisex EXO-T520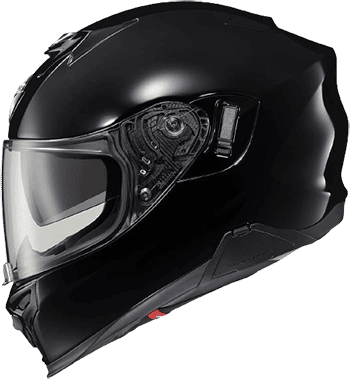 ScorpioExo Unisex EXO-T510 is the evolution of T500 series helmets. After checking its interior design, we found it as one the best motorcycle helmets for glasses. It is a medium price range helmet with low profile design. Quality Polycarbonate shell makes protective, durable and lightweight.
The helmet has an airfit inflation cheek pad system so that you can easily optimize the fitment according to your requirements. The helmet has dual visor system to save you from outer elements and also from glaring sunrays. The helmet is equipped with finest ventilation system to keep you cool all the way throughout journey. The ScorpionExo T-520 is the best motorcycle helmet for glasses wearers, owing to its spaciousness and room for glasses.
This helmet has Exo-Com Bluetooth integratation design and also has speaker pockets. The helmet is DOT approved and is meant to allow you all sorts of riding needs. In short, this helmet is excellent for those who wear glasses and are in quest of features and styles.
1Storm Motorcycle Full Face Helmet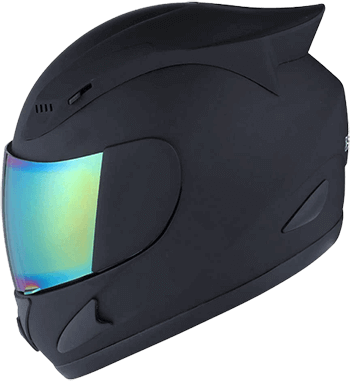 If you need best motorcycle helmet for glasses in a cheap price, also maintaining quality, then 1storm full face helmet is for you. Whether you ride for a short or a long distance this helmet will serve you the best as your 'head guard'. Because of its premium quality in low budget this helmet is very popular.
The robustness is major its top-notch feature, as the helmet is built with jerk-withstanding materials such as multi-density EPS and sturdy ABS. Not only some of my friends but also many people admits that this helmet saved their life. This is the success story of this helmet. The helmet has many good features like aerodynamic design, comfortable interior, controllable ventilation, quick release system etc.
What we like the most here is its face shield because it does not comes in between glasses or disturbs the vision. Moreover, the people wearing glasses also praise it due to the unique space for optical inserts. This helmet is approved by DOT therefore, there is no issue about safety too.
GDM DK-120 Ghost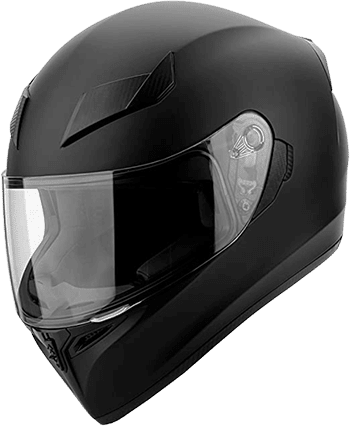 It is another best full face helmet for glasses in this series. Full face helmet is always a best option for full protection but for glass wearers some full face helmets are headache. But, GDM DK-120 S full face helmet will not give a chance of complaint related to your glass wearing.
The shell of the helmet is made of Acrylonitrile butadiene styrene (ABS) which makes it not only strong and lightweight but durable also. This shell along with a high quality EPS liner saves the rider from external impact prominantly. The soft padding and liner gives maximum comfort and are removable for washing and maitainance.
As far as glasses compatability is concerned, the padding at temples is perfect what one needs to adjust glasses. You can won't struggle to insert glasses temples between the face and helmet foam. The various vent ports placed at front and back side provides ample ventilation. Clear – strong face shield and D-ring closure are some of its important features. In short words, it falls in the category of best helmet for spectacle wearers.
Arai XD4 Helmet – Best motorcycle helmet for glasses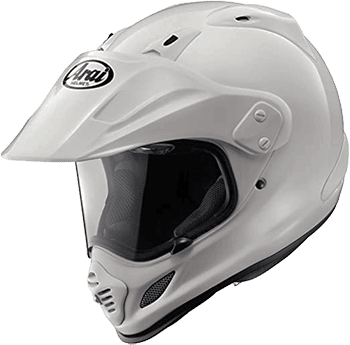 Arai XD4 motorcycle helmet is a high-quality, high-end helmet with many features. It is one of the best helmets for glasses wearers. It is a dual sport helmet but many people use it as their street helmet because of its amazing features. It is a costly helmet but if you want the most glasses friendly motorcycle helmet then it is motorcycle helmet for you.
The XD4 has a fiberglass composite shell which makes it not only lightweight but also very sturdy. The Arai made inner liner is known for its protection from impact. The interior of this helmet is made very comfortable with the help quality material padding and fabric. The liner can be removed and washed which is great for those who drive in hot climates or have allergies to dust. So, you can also consider it as the best racing helmet for glasses.
What is important here is the thin padding at temples area which can be removable to make comfortable space for glasses. The glasses end pieces and temples have enough room in this helmet. The special ventilation system of this helmet solve the problem of fogging. Also, the high quality face shield offers excellent visibility and protection. This Snell approved helmet is my personal choice as best motorcycle helmet for glasses.
B) Best modular helmet for glasses wearers
HJC C91 – Best helmet for spectacle wearers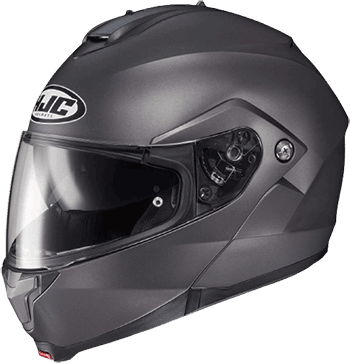 HJC C91 is modest and the best modular helmet for glass wearers. It possesses all prime characteristics such as being lighter in weight, protective, super comfortable, safer and easier to use. Speaking truly, this helmet is a bit heavier in price but along with premium quality it provides glasses friendly setup.
It offers a well built shell made up of advanced Polycarbonate composite to protect the rider from unwanted external force. This material also makes the helmet lightweight and last longer. The quality liner ensures the additional satety to your head. The face shield is quite wide and distortion free. The shield is pinlock hole ready. So, there is no need to worry about fogging of glasses.
As we are talking in context of motorcycle helmets for glasses wearers, there is suitable space like glasses grooves. Therefore, you can enjoy your ride with your glasses without worrying about sliding the glasses. With the modern ventilation system it provides all necessary comfort and safety features.
HJC Solid CL-MAX 3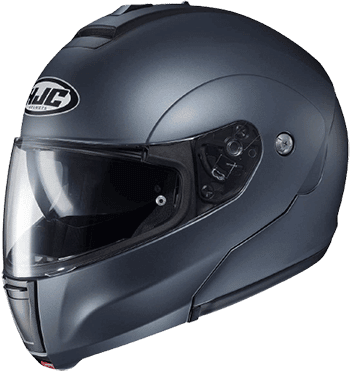 HJC Solid CL-MAX 3 is a helmet specially tailored for riders with glasses. This helmet has special arrangemet of glasses grooves at temples. Indeed, this is the best helmet for glasses wearers and you will realize this only after wearing the helmet with glasses.
Along with glasses friendly charasteristc, it has many amazing special features for your safety and comfort. The shell of the helmet is designed with Advanced Polycarbonate material and protective liner to save your head from the injury in an accident. The helmet has built using CAD technology to ensure not only perfect fitting but also all necessary comfort and safety features. The soft and foamy liner and padding lessen the effect of fatigue of long distance riding. The fabric used in the interior is moisture-wicking.
Another great thing about this helmet is its ventilation. It is designed with ACS (Advanced channeling system) that provides a continuous fresh airflow inside the helmet. Its face shield, closure system are amazing. Therefore, this helmet is an outstanding option as the best motorcycle helmet for glasses.
Shoei Neotec II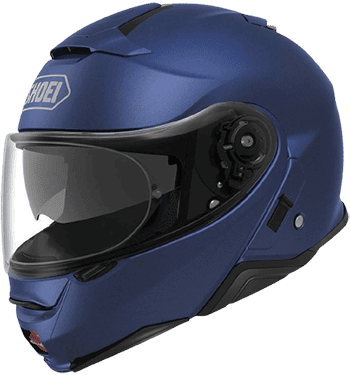 If you you love high-tech modular motorcycle helmet for glasses and don't care for price then this helmet is waiting for you. Shoei Neotec 2 is the fitting helmet that serves all purposes in its true sense. The brand is famous for its rich tradition to provide best quality head gear to protect riders' head.
The aerodynamic design of shell using the latest technology is the speciality of Shoei. Shoei Neotec II is not only lightweight but also offers an extra ordinary safety to head. The EPS liner used in this helmet has the ability to absorb rotational impact to protect your head. The soft padding and the fabric of helmet is very comfortable and is also antimicrobial.
The helmet is designed to provide consistent visibility even when wearing spectacles. It has special arrangement to set glasses temples. This helmet is Bluetooth setup ready (Bluetooth is not included) and can accomodate communication system. Furthermore, the helmets also qualified for many safety tests, including the DOT. Thus, you have to be sure that this helmet will provide you the protection you desire.
HJC i90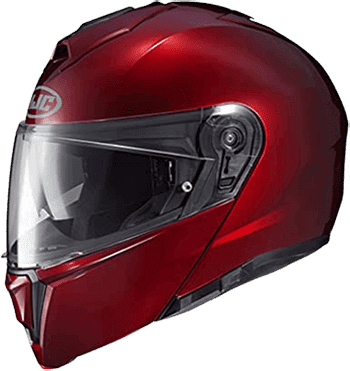 If you regularly wear your glasses, then the HJC i90 is the best modular helmet for glasses. The modular shape of the helmet is praised by many helmet lovers, and indeed it is easy to use. I will not say that this helmet is very cheap but yes, it is affordable and within limit. Specially if you wish for the best motorcycle helmet for glasses.
The outer shell is made with polycarbonate, which is safer and aerodynamic. The interior is classic andb comfortable. You can remove inner linings like crown and cheek pads so that you can wash them properly and the helmet remains fresh. Also, you can wear and adjust your glasses. Moreover, you can quickly put on and off your glasses as the helmet comes with a one-touch system for opening and closing the front shield.
In addition, the helmet comes with a chin curtain to reduce wind noise. It also helps to prevent fogging of glasses. Thus, you will ensure to have a hassle-free ride. You can also select its excellent sizes according to your fit and a variety of colors as well.
LS2 Horizon Modular Helmet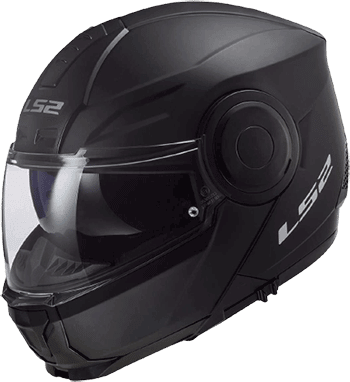 LS2 Horizon modular helmet a budget-friendly and best modular helmet for glasses wearer. It comes with an aerodynamic shell and a soft interior. The interior fabric is designed to absorb moisture perfectly, thus keeping you cool and dry. Therefore, you are relaxed and comfortable during the longer rides and enjoy your journey.
The face shield of the helmet is designed with A grade Polycarbonate. That means it long lasting and optically correct. Also, it is super easy to operate. The ventilation of this helmet is also worth mentioning. It has enough vent ports, on chin bar, on top and on rear side that offer plenty of airflow throughout the journey.
The best thing about this helmet is that we found no trouble while driving with glasses. The glasses temples inserted easily inside the helmet and there was no pressure point anywhere for that. And this comfort feeling was constant even for a long duration.
C) Best open face helmet for glasses wearers
Vega Unisex Open Face Helmet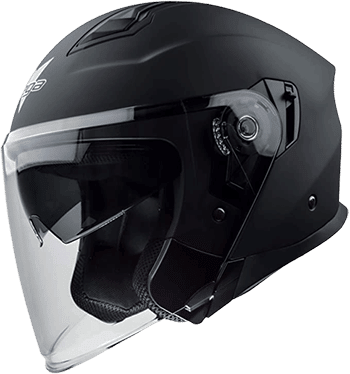 If you wear glasses and like open face helmet then Vega Unisex open face helmet is the perfect choice for you. This helmet offers a wide range of benefits to glasses wearers. The helmet is included with so beneficial features that it has gained not only DOT but also ECE approval.
The helmet is constructed with quality material shell and multi-channelled EPS liner to nullify and disperse the impact evenly. These materials make the helmet safe, highly protective and lightweight. The interior of the helmet is very soft and features moisture-wicking liner. As a result you remain comfortable and relaxed even when you ride a long distance.
Vega Unisex Open Face helmet offers anti-scratch and optically correct shield. It also offers a drop down sun visor and adjustable flow-through ventilation. This means that you can ride without worrying about your glasses fogging up, and you won't have to deal with any distortion. These features are great for the riders who ride with their eye glasses. We have chosen this open face helmet as the best motorcycle helmet for glasses because it nicely accommodates glasses.
Bell Mag-9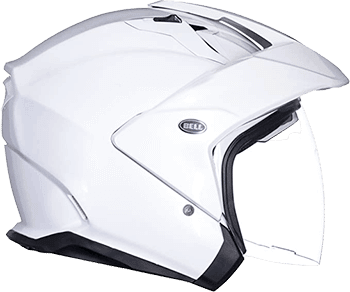 Apart from a glasses wearer if you are a guy who loves listening music or stay connected with dear once then this helmet is a perfect match for you. Bell Mag-9 is an open face helmet that has sufficient space for eye glasses. When we checked this helmet wearing glasses for a long distance we found no trouble inside the helmet.
If we talk about the strength of Bell Mag-9 helmet, it is made of quality Polycarbonate shell. This makes it safe and lightweight for the journey. The standard EPS liner inside the helmet takes additional care of your protection from the impact. With maximum soft padding this helmet also provide comfortable travelling. Outer anti-scratch face shield and inner drop down sun visor adds extra plus points. Both are well made and easy for replacement.
Another speciality of this glasses friendly motorcycle helmet is that it has integrated port for Bluetooth. You can place Intercom sytem with an ease. This facility is seen rarely in other open face helmets. The speaker pockets are properly placed to avoid your unconvenience. This helmet makes your riding enjoyable with glasses and music. Hence, best motorcycle helmet for glasses wearers in my opinion.
Pretoee Open Face Motorcycle Helmet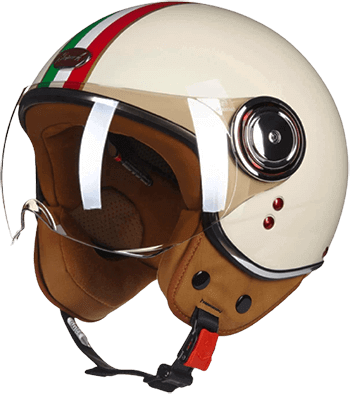 This is very stylish and glasses friendly motorcycle helmet by the brand Pretoee. Designed with up to date modern technology, this helmet offers all necessary requirements in an affordable price. The helmet adds charm and protection at the same time. It has graceful look on both men and women who wear eye glasses.
The helmet is an artistic combination of contemporary fashion and vintage style. The outer shell of this helmet is made of ABS shell while inner liner is constructed with EPS. The blend of the both makes it stronger, lighter and durable. The interior has soft and moisture resistant padding to provide maximum comfort. The ear padding is removable and washable to maintain cleanliness.
The face shield of the helmet is its unique feature. It is made strong and sturdy to save riders from any type of external elements. It is made anti-scratch using friction resistance technology. What we like the most is the fact that it has proper space glasses. So, with all these wonderful features it becomes the best open face helmet for glasses wearers.
Triangle open face helmet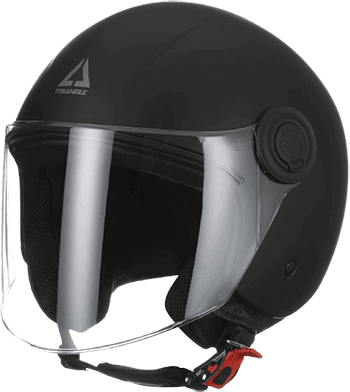 If you are searching best open face helmet for glasses in a low budget then Triangle open face helmet can fulfill your wish. This helmet is suitable for glasses as we find that there was no sliding of glasses or difficulty in insertion of the temples. Also, the helmet gives all required features.
The helmet is available in very low price, it doesn't mean that it has compromised with the quality. The outer shell is constructed with advanced ABS. It uses high density EPS as inner material for the best protection. To give you comfort feeling inside it has soft head antibacterial liner and thick padding. The padding at temples accomodates glasses without any hurdle or pain.
The face shield is clear, wide and competent to protect eyes for dust, bug and also from UV rays. The helmet has also proper inner ventilation to keep head free from sweating. It offers best retention on head with quick release buckle strap. In short, it is one of the best helmets for spectacle wearers.
Shoei J-Cruise II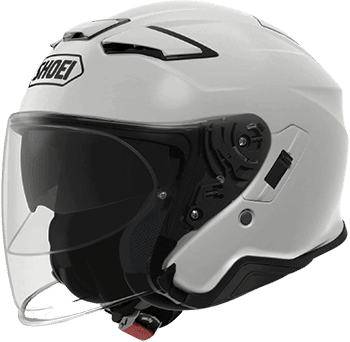 We know that it not so easy to find best motorcycle helmet for glasses wearers, it doesn't mean that we will buy whatever is served in the name of glasses wearing. Head protection is as important as eye glasses. It is glad to know that Shoei J-Cruise II accomplishes both the purposes very promptly.
Shoei J-Cruise II shell is designed with its AIM that is Advanced Integrated Matrix technology. It aslo uses multi-density EPS liner to give best head safety to glasses wearers. No doubt it has soft, comfortable and standard interior, most importantly it has enough space to accommodate glasses temples and frame. When we tested the helmet with glasses we found the perfect fitting without any stress.
The helmet also provides quality face shield which is anti-scratch. It is wide and offers clear view without distortion which is good for glasses wearing. The top and rear venting ports extend maximum ventilation to keep rider's head cool and free from sweating. Long story short, this premium open face helmet is the best motorcycle helmet for glasses.
Buying Guide For Best Motorcycle Helmet For Glasses Wearers
There should be always a good co-relation between motorcycle helmets and glasses. Not every helmet is made for glasses wearing. There are some check point you should consider before choosing your best motorcycle helmet for glasses.
Padding Cuts At Temples For Glasses
Many helmets feel uncomfortable against your ears or head because they press against the temples or the tips. Some of them have enough room for the rims and lenses, which can again cause them to press against your head or cause them to be in an awkward position. Your eyes and nose may find them uncomfortable as a result.
Choose the helmet model so that it has plenty of room inside it can fully accommodate the glasses without pressing them from any side. Therefore, you will not feel pressure on your nose or brows. Moreover, if the padding has some cuts at the position of the glasses' temples, it can easily accommodate them without any pressure on the nose or other facial parts.
Channels In Foam For Glasses
Additionally, if the helmets have extra space or specific grooves or channels for glasses, they should be your prime selection. Some helmets have enough space for glasses frame but there is a little or no space or channels for temples. You should avoid such helmets. Also, consider a helmet whose face shield does not interfere with your glasses.
Removable Padding At Temples
Some helmets come in a removable padding style, especially at the temples. Such helmets are best as the helmet for glasses. In these helmets you can modify width at temples according to your face. Also, if you feel uncomfortable, you may detach the padding to fit your spectacles correctly. You should be careful while getting helmet for glasses.
Seams Cuts At Pressure Points
If you want adequate comfort while wearing glasses, opt for a helmet with cuts or openings at the seams. This will help you in two ways. First, there will be enough space or way to insert glasses temple inside the helmet. Secondly, you will not face any pain or feel any pressure point even after a long drive. This is an important feature of the best motorcycle for glasses wearers.
Good Ventilation to Avoid Fogging & Moisture
Fogging and moistures are other significant issues you may face during the rides with glasses. This problem mainly occurs in full face helmets. A full-face helmet with good ventilation that allows for a lot of airflow in it can avoid this situation. Additionally, vapor from the air can be eliminated through moisture-wicking fabric, preventing it from condensing on the glasses. Therefore, also see that there is moisture-wicking fabric in it while selecting the best motorcycle helmet for glasses.
Protection and Comfort Quality
While choosing helmet for glasses you must not forget your safety. Take for granted that you have got a helmet that have features suiatable for glasses wearing, but its shell or liner is weak. Such helmets can be good for glasses but they can not protect your head in an accident. Therefore, take care that the helmet your are getting for glasses is constructed with quality material shell and liner. It should have soft padding with moisture and sweat-sweat-wicking fabric for comfort.
Face Shield
Face shield is also a deciding factor while choosing for the best helmets for glasses wearers. There is already a layer of glasses in front eyes of glasses wearer. Another comes the layer of face shield. If the face shield is not clear and free from distortion it can effect the vison and view too. Secondly, in some helmets the distance between glasses frame and face shield is very low. It is better to avoid such helmets.
Hygiene
Look for a helmet whose inner material is made with hypoallergenic material so that the contacting skin will remain free from any blemishes. Furthermore, if the liner is detachable and washable, it will be extra good in maintaining hygiene. This will be good for your eyes and glasses too.
FAQs Related Best Motorcycle Helmet For Glasses wearers
Which helmet is best for glasses wearers?
There are many helmets but my first choice is Arai XD4 helmet as the best helmet for glasses wearers. The first thing, its capacity to accommodate glasses is amazing. I find no issue while inserting the glasses inside it or while riding. Secondly, it is a full face helmet so you can avoid accumulation of dust on glasses when face shield is on.
Can you use a motorcycle helmet with glasses?
The straightforward answer to this question is yes. However, every helmet is not suitable for glasses wearing. The helmets that have grooves for glasses or removable padding at temples are best for glasses. Helmets without these facilities will give you trouble when you wear glasses.
Can you ride a motorcycle with glasses?
You can ride a motorcycle with glasses provided you have worn helmet meant for glasses. The face shield of the helmet will give protection to your glasses from dust, debris, insects or other external flying objects. That will be safe for your eyes too. So, if you want to ride a motorcycle helmet with glasses better you find a glasses friendly helmet.
Are Arai helmets good for glasses?
Many people who wear glasses have good experience with Arai helmets. The internal design and padding near temples place is appropriate for glasses in Arai helmet. Having said that, it would be wrong to say that every Arai helmet model is perfect for glasses. You will have to check the glasses accommodation ability of the model. In my case, Arai XD4 is perfect as the helmet for glasses.
Can you wear a motorcycle helmet with prescription glasses?
You can wear a motorcycle helmet with any type of glasses whether they are prescription glasses or glasses for fashion. The only thing you should take care while choosing a helmet for prescription glasses is that it should a bit snug. The face shield should clear and optically correct to avoid stress on your eyes. Also, it should be comfortable. It is because, otherwise you will feel pressure points that may lead to headache.
Can you wear sunglasses inside a helmet?
You can easily wear sunglasses inside a helmet if it is glasses friendly. Generally, the frames of sunglasses are big and wider. So you will have to choose such a helmet that have wider space near eyes. Otherwise, you will have to make adjustment with padding.
How do you keep your glasses from fogging under your helmet?
The best way to keep glasses away from fogging is to use breath gaurd or breath deflector. Breath guard changes the direction of warm breathing and prevents to go inside the helmet. In this way, it helps to stop fogging of glasses. Well directed ventilation also can help to prevent fogging if it is not too much cold outside.
Conclusion
There are various helmets available in the market boasting as the best motorcycle helmet for glasses wearers. But when you actually use them you will find some of them are not actually made for glasses. Therefore we first test them with glasses and presented in front of you. We tried our best to select finest glasses friendly motorcycle helmets from full face, modular and open face helmets.
We have taken care that all these helmets have safety and comfort feature with glasses compatibility. So, just think, select and ride happily with the best motorcycle helmet for glasses!