If you are the one who likes retro style helmet, then this GDM Rebel helmet review is for you.
There are many riders who want simple style and sturdy look in their helmets. Straightforwardness is what that can be seen not only in their riding but also in their helmets. A retro fashion helmet is their first choice. There are many helmets in the market to pacify their thirst for vintage helmets. GDM Rebel helmet is one of them. Riding with such a helmet is really a fun!
GDM Rebel motorcycle helmet is a great way to take a little bit from the old tradition and mix it with the modern need to have head protection and comfort. In simple words, GDM Rebel motorcycle helmet will keep you safe as you ride your motorcycle, but it will also give you a change of look as you ride your motorcycle.
It is not a shot in the dark, getting a helmet based on just GDM rebel helmet review is not practical. So, we decided to get and wear it first to give our right opinion on this motorcycle helmet. It is because, head protection as well as comfort are the key factors of wearing a motorcycle helmet. We don't want to compromise these aspects with any kind of style.
So, look into the following GDM rebel helmet review so that you too take right decision before you jump straight into buying it.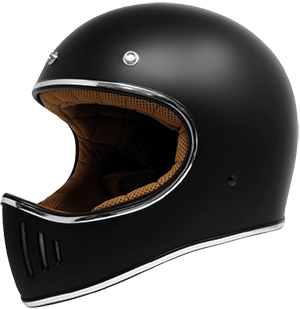 A Detailed GDM Rebel Helmet Review
Outer Retro Design
The GDM rebel helmet is a full face helmet which is designed with a protective outer shell that is made out of injection-molded ABS. The use of this particular material is what makes it so durable, strong, and impact resistant. As it is said earlier, the look retro and eye catching. The opening is extra wide to get peripheral vision.
If you look at this GDM helmet at a first glance, I am sure it's outer design will win your heart. It is so simple, modest and sturdy at the same time.
Comfortable Interior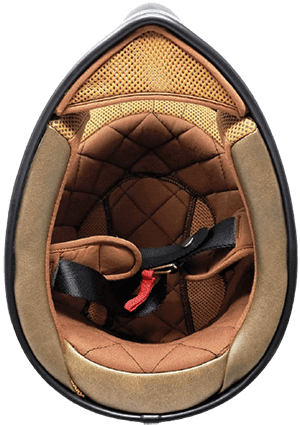 Expanded polystyrene is used to make the inner shell of GDM rebel helmet. It is a lightweight and cost-effective material. It provides sufficient protection against large impacts as it absorbs the energy instantly whenever there is an accident.
The interior padding is super soft and comfortable. There is a bit extra padding used near forehead portion but it's for your protection. That's that. Otherwise all the interior is evenly soft. It because, contrasting diamond-stitched quilted foam material is used to make the liner and padding. There is also a wind guard to prevent excessive air strike your mouth.
Overall, the GDM rebel helmet is super comfortable and lightweight. It is my remarkable point for this GDM helmet review.
Ventilation and Breathability
There is nothing special to say much about ventilation in GDM rebel helmet. Though, it is full face all it's design is just like an open face helmet. So, it has a natural ventilation so that the riders will enjoy fresh and cool air throughout the journey. There are vent openings at chin bar that allows riders to breath without any effort.
If we talk about the drawback, there are no rear vents for air to exit. So, there is not circulation of air inside the helmet. Being said that, if you are the person who don't care about inner ventilation, GDM rebel motorcycle helmet is perfect for you.
Fitting
GDM Rebel helmet fits great. You have chosen your size correctly there is no way it gives trouble in the fitting. In my case it fits snug and comfortably. It feels easy even at pressure points. Even my friend who is also our team member has a larger face. He tried the same helmet and after four- five trial of other member, he was able to wear the helmet. It was a little bit tight for him though.
Fitting is an important factor and this helmet has no issue with it. Almost not at all, if choose correctly. Of course, no one can give guarantee of it. Yet, most of the motorcyclists who posses this helmet told us positively about fitting of the helmet. It makes it one of the best retro motorcycle helmets.
Safety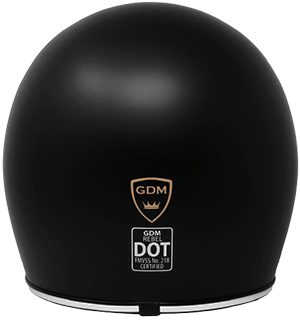 As for as safety is concerned it is approved by DOT. This helmet meets FMVSS-218 safety certification. This is the proof that GDM Rebel helmet has gone under many safety tests. Though this is a basic certification of safety, it ensures authentically that the concerned helmet is safe to use while driving.
It's double D ring chin strap also adds another safety feature to GDM Rebel helmet as it holds the helmet on your head perfectly. It is a matter of few seconds to learn the use of D-ring chin strap. But for safety purpose it is very useful. It not only holds the helmet tightly but also releases easily in the time of accident. Just pull the red strap and you are free to take off the helmet.
GDM REBEL helmet Review in short: Pros and Cons
Final Words
GDM Rebel helmet is not just an affordable retro vintage style product, but it has the qualities of both high protection and comfort also. Which means that not only it saves your bucks but also delivers full satisfaction for the bucks you spent on it. It is perfect for those motorcyclists who don't care much about inbuilt face shield and inner ventilation. The lovers of retro fashion will love this helmet. In this GDM rebel helmet review we tried to cover all features of the helmet. However, it's your own decision and I know it's positive!