If you are looking for an ILM brand motorcycle helmet in budget, then this ILM 313 helmet review is for you. You will get its every aspect in detail here.
One of my friends searched a lot for a quality motorcycle in an affordable price. Finally he came up with a ILM 313 helmet review. Enjoyed with the review my inexperienced friend called me for my opinion. What I told him inspired me to write it for all.
Motorcycle riders need to be aware that the helmet they choose will not only protect their head but also make them comfortable and safe. To make sure it gives the best protection, it is important to understand the different safety features and what they offer in your budget.
There are many helmets in the market that will give you great features without cutting your pocket. ILM 313 helmet is one of them. ILM is an innovative motorcycle helmet brand that claims for best protection, design, fit, comfort, ventilation and affordability. But it becomes necessary to check the helmet practically by wearing it on motorcycle riding. We did it for you and what we found is here for you.
ILM 313 Helmet Review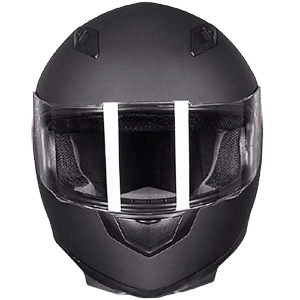 ILM 313 motorcycle is a full face helmet. It is a popular product among motorcycle owners because of its low price and good features. Let's check whether it is worthy of the penny people spend on it.
Shell Construction
The overall look of ILM 313 helmet is stylish yet decent. As it is made keeping in view the new generation, there no weird graphics on it. It looks great on both men and women.
The shell of a motorcycle helmet is a crucial part that provides safety in the event of a crash. Shell construction of ILM 313 helmet is made with ABS (Acrylonitrile butadiene styrene). ABS is one of the most commonly used materials to construct motorcycle helmets because it can resist impact and remain lightweight and durable.
We found that it is really not much heavy even though we used it for a long distance. ILM 313 helmet feels no burden on head or any stress on the neck.
Aerodynamic Feature
Aerodynamic system of any motorcycle helmet is great when it interacts smoothly with air in speed motion without making much noise. There are many things that influence aerodynamic drag such as the shape, size, speed and orientation of an object. In the case of ILM 313 motorcycle helmet we found the aerodynamic system satisfactory.

The streamlined aerodynamic design of ILM 313 motorcycle helmet reduces the amount of wind noise and drag felt by the rider. This is due to its sleek and streamlined design which reduces air resistance at higher speeds when riding on the highway or country roads. One noticeable thing is that when we drove at the speed above 70 mph we felt it a little bit noisy. However, it can be improved with exact fit and extra padding.
Interior and comfort
The interior of the ILM 313 motorcycle helmet is constructed with EPS liner and pads. EPS liner is a high performing foam that fits inside the shell of the helmet for comfort and impact protection. It's important to have a comfortable lining inside your helmet like this, so it feels soft and not stiff on your head. This helmet performs better in this aspect.
If you wear a helmet for long periods of time, make sure it has a removable and washable liner. In ILM 313 motorcycle helmet we able to remove the liners easily with the help of buckles and wash them for cleanliness. You can purchase an extra pair of liner if you need snug fit.
Overall the interior of this ILM full face helmet is comfortable. Yet, there is a scope for improvement.
Ventilation of ILM 313 helmet
As far as ventilation of ILM 313 is concerned, it is perfectly fine. There are three front vents and two at rear side. The front ventilation ports include a big vent at chin bar two vents at top. The adjustable front vents are designed in such a way that they take inside sufficient fresh air to make the rider feel cool and fresh. The rear vents takes out humid and hot air. In this way there is a proper circulation of fresh air inside the helmet.
In our test, it is found that all the vents work properly and provide good ventilation. They can be operated just with a single finger even when we use hand gloves.
Visor system
The visor system in ILM 313 motorcycle helmet is simple yet effective. The helmet comes with clear and tinted visors. This way, the riders can switch between one or the other depending on what they want to use according to the circumstances. If they want to ride in sunny days then they can use the tinted visor which will them from harsh sun rays.
The visors are anti-scratch which is really awesome as it offers durability and maintains clear vision. The vision is wide through these visors without any distortion. It allows the rider to have a panoramic view of their surroundings flawlessly even when they are riding at high speeds. Changing the visors is little bit tricky but take much of your time. In short, visors in ILM 313 are better than the visors in the helmets that come in this price range.
Neck scarf in ILM 313 helmet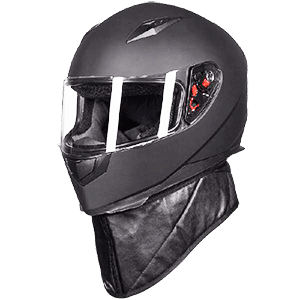 This is the special feature of ILM 313 helmet. The helmet comes with a winter scarf to protect you from cold wind flow in winter. This will help you to stay warm in chilly atmosphere. You can use this scarf not only in winter season but in other seasons also if you wish to do so. It also offers protection to neck skin from outer elements like dust, debris, insects. So, actually it is a multi-purpose scarf.
The scarf is easy to use. That means you can easily attach or remove according to your need. Simply add it with the help of zip and close it by a velcro strip and just unzip to take it off.
Quick release chin strap
This is one of most important safety features that every helmet must have. The quick release becomes necessary specially when you get in any accident or mishap. ILM 313 helmet is equipped with quick release clasp and strap which is very easy to operate. Just pull the strap and take off the helmet.
Safety standards
ILM 313 helmet fulfils basic DOT safety standards. It meets or exceeds FMVSS-218 which ensures us that the use of this helmet is safe. So, this helmet has an authorised certificate of safety standards.
Considering all these features this ILM full face helmet is an excellent head gead for you as well as it can be a great passenger helmet in an affordable cost.
What I liked-
If to tell in plain words I liked almost everything of this helmet in such an affordable price range, except few issues. And why I am saying this? People buy costly motorcycle helmets, use them for some days and came up with disappointment. Better is this helmet. I liked the overall construction which is mainly made up of ABS shell and inner EPS liner and pads. The comfort and ventilation give you satisfaction. Its aerodynamic design and finishing impressed me the most.
What I didn't like-
As I am a person who like to listen songs while riding, which actually is a bad thing, I would love if this helmet had a speaker device set up. Although, you can do it but it takes a little time.
Q and A related to ILM 313 helmet review
Are the ILM motorcycle helmets safe to use?
Yes, ILM motorcycle helmets are a safe helmets. They have a variety of features to make them safer. The outer shell of ILM helmets are made of mostly ABS which is a strong, durable and impact resistant material. They are aerodynamic which offer a smoother ride and less wind resistance. They are safe because they have DOT approval, which means they are tested for safety. The EPS liners are designed to protect the head from impact when you get in an accident.
Is ILM 313 helmet ready with communication system setup?
No, this helmet does not have any communication system. But you can use small devices like bluetooth or speakers with this helmet. It is because there is a little space on both sides where you can place such devices.
Does ILM 313 helmet come with inner sun visor?
No, it doesn't. This helmet has no inner sun visor. However, it comes with both clear and tinted visor. You will have to take off clear visor first. Then you can use tinted visor to protect yourself from the sun rays.
Conclusion
There are many motorcycle helmets in an affordable price but the features offered by ILM 313 helmet make it stand out from all. There is all that is required to give you comfort and protection. In this ILM 313 helmet review we have covered almost all main features in detail. You can not compare this helmet with costly helmets but yes, once you use it you will come to know why this helmet is so popular.
So, I hope you will be benefited from this ILM full face helmet review and will help to take your own decision!