The answer to which type of dirt bike helmet is safest is multi-faceted. One liner suggestion can be given but a detailed reply will be more appropriate. The bikers who are connected with dirt bike sports and adventures know the potential risk of head injury. Fortunately, I was a part of dirt bike sport for many years. Therefore, I can understand the basics of diminishing head injury risks. Mainly, by selecting a right dirt bike helmet.
Whether you are a hard core or an amateur dirt bike rider, a well featured and protective helmet helmet is a must. In this short article I will address a question asked by one of friends- which type of dirt bike helmet is safest? Here, I will talk keeping in mind only safety and protection concerns.
Before going ahead, let's see first,
What is a dirt bike helmet?
Dirt bike helmets are the helmets designed specially for dirt bike riders. They are customized according to the off-road conditions so as to protect riders from head and overall face injuries including chin. They also protect from dust and debris. These type of helmets are nicely ventilated.
Which Type Of Dirt Bike Helmet Is Safest?
A dirt bike helmet is considered safest that has strong shell material with quality EPS and broad chin bar. Easily detachable visor, good ventilation and comfortability are some of its features. With said that, there are many other factors too to make it safe and worth having one.
The comfort level and ventilation are also equally important factors.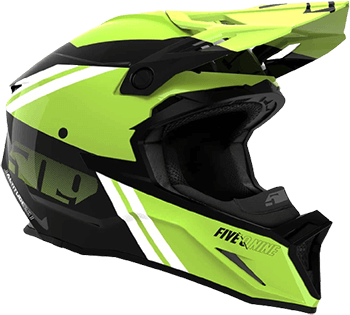 I personally like 509 Altitude that is an upgrated version of its previous model. Obviously, it fulfills my criteria of shell, comfort, ventilation and everything. It has Carbon Fiber composite shell with aerodynamic design. Its fitment is perfect for me and can be for everyone because it offers three shells with extreme small to extreme large. Two of friends having different head sizes have the same helmet and their opinion about fitment is same, the perfect. I like ECE certified helmet for safety standards and it is ECE approved too.
With its performing shell design, comfort, breathbox, goggles setup and ventilation, it is excellent for off-road bikes. Also, it is one of best helmets for supermoto and other off-road sport activities.
Popular helmets as safe dirt bike helmets
Fox Racing V3, O'Neal 5 Series, Bell Moto-9 Flex, Troy Lee SE4 Carbon, Arai VX-Pro 4, Leatt GPX 6.5 Carbon, 6D ATR-2, Bilt Lux Race, Thor Reflex, Shoei VFX-W etc. are the helmets which are famous in dirt bikers and motorcross riders. Each of these brands makes dirt bike helmets to give best results on the track. Every helmet they make has its own specialities. Sometimes, they give best performance in a particular feature, then again they fall short for a specific reason.
Of course, I haven't used all of them yet, I have tasted many of them. I have already told my favorite one that is 509 Altitude. Apart from that, Arai, Bell, Shoie, O'Neal and 6D ATR-2 are in my collection.
From these helmets I can say that popularity of the helmets should not effect your selection for a safe dirt bike helmet. What I mean is you should involve more into your own personal requirements before you choose any helmet. Your head structure, your preferred ventilation, your consideration for vision all these factors affects a lot when drive on track practically. A study shows that a well safety featured dirt bike helmet can save dirt bike riders prominently.
How to Choose a safest dirt bike helmet
I declaired it earlier too, here we will discuss only the points which are necessary for safety.
Safety standard
It is the first criteria to check whether the helmet is safe to wear. If the helmet is not certified with competent authority, then there no question of buying helmet. Everyone knows this why I said it. It is because, I know many rides in order to save some cents choose cheap but good looking helmets. Generally, they are not any authority approved helmets and can't protect head when time comes.
Safety standards and their norms are different for countries. In United States DOT and Snell standards are followed. ECE safety standards that are exercised in Europian Union are also followed in US too. And these helmets are also popular. If you ask me, I personally like Snell. Snell approved dirt bike helmets are safest to wear. They are rigorously checked for impact protection for head and chin, crash test, quality test and all.
Outer shell and inner material
As always, for me outer shell material and internal foam liner are important. These are the things that protect head from external impact in an accident. Therefore, if the shell is made of high quality material chances of protection increases. Most importantly, the inner foam liner that absorbs and nullifies the shock must be made of good quality material.
For shell Carbon Fiber or Fiberglass composite is the best. The use of these material not only makes the helmet strong and durable but also helps to make it lighter. So, if you are looking for the safest dirt bike helmet you should see the material used in shell and liner.
It is best if the helmet has MIPS Liners. They are very much helful to decrease impact, specially rotational force to protect head in an accident.
Ventilation
A good ventilation is an integral part of dirt bike helmets. If any helmet lacks suitable ventilation, then there is no point of dealing with such helmets. It is obvious that there is a lot jerk and jolt on off-road tracks and off course, there is much perspiration. For such conditions a helmet with a proper ventilation system gives relief from sweating and keeps you cool all the while.
Functional ventilation is more preferable. You can control the air flow according to your need. However, low cost dirt bike helmets are less in vent functionality. Best ventilated dirt bike helmet is the most prefferable.
Visor with MVRS
Magnetic Visor Release System is worth mentioning because we are talking about type of safest dirt bike helmet. In accidents or crashes no one knows how one falls. The helmet will save you from head injuries but in case you fall on face side and if the visor is not automatically detachable, then you get high jerk at neck. This may result in a serious injury to neck muscles and nervous system. That is why if ask which type of dirt bike helmet is safest, then I will suggest that you should get one that has Magnetic Visor Release System.
Weight of the helmet
As we are talking about safest dirt bike helmets then we can not forget the factor that is weight of a dirt bike helmet. And why it is important? The heavy dirt bike helmets exert load on neck as well as its adverse effect can be seen on shoulders too. This results in fatigue and more consumption of energy. In this situation your attention on track can be diverted and it may lead to a mishap. Therefore, for safe driving a dirt bike helmet should be lightweight.
Setup for Goggles
It is also one of the features of a safe dirt bike helmet. If there is setup for goggles internally or on outer parts, the goggle will not slide down. It is a common problem among dirt bike riders that goggles come down on nose and dirt goes into eyes. Some times goggles slide down and hinder the visibility. A good goggle setup in helmets hold the goggles firmly. So, goggles set is necessary if you are searching for safest dirt bike helmet.
Inner Comfort
There is a close relation between comfort and safety. If your dirt bike helmet is comfortable then then a feeling of uneasiness won't errupt in your mind. This way you will be focused on your riding. That is why interior of the helmet matters a lot. Thick and soft padding with anti-bacterial, anti-sweating fabric add much value to make it not only comfortable but indirectly it helps in safety too. Removable and washable liner is a helful feature to keep it clean after every dusty riding. This way, you can avoid dirty smell and skin disease too.
Some Related FAQs
What is the best dirt bike helmet?
Well, it depends on safety features it offers and personal experience. For me, 509 Altitude is the best dirt bike. It gives me best fitting, comfort and its Carbon Fiber shell ensures protection in mishaps. For others it is 6D ATR-2. It is also one of the safest dirt bike helmets.
Can I use a dirt bike helmet on the street?
The answer is yes. You can use as a dirt bike helmet as regualr helmet when are not on the field or after the season. It is made of the same material what is used in street helmet. The only difference is its look because of the peak visor, chin bar and aerodynamic design structure. It looks sporty and bulky that's it. So, yes, if you don't care about look or look is not an issue for you.
Are dirt bike helmets safe?
Dirt bike helmets are safe. They are designed to protect riders in an adverse condition where risk factor is at high level. Knowing the risk of head injuires thickness of the liner is generally more in dirt bike helmets. Cheek padding and liner makes it more stuffy. That is why dirt bike helmets are bulky than street helmets. It is only for the good reason that is safety. In these helmets special attention is paid on jaw and chin protection too. With the help of modern technology the manufactureres making dirt bike helmets stronger, safer and all rounder.
Conclusion
The helmet for dirt bike is design differently. The emphasis is given more to safety. All brands try to offer best safety features but depend on the price range these features varies. If you see any dirt bike helmet with Carbon fiber or Fiberglass composite shell construction, magnetic visor, thick and quality liner, maximum ventilation, you should consider it as safe dirt bike helmet. The helmet that offers most of these factors can be considered as the safest helmet. Such a helmet is a perfect reply to the question- which type of dirt bike helmet is safest.