It is always a double fun when we get an aggressive looking stylish helmet and freedom of use within one motorcycle helmet as full face and open face helmet. Yes, we are talking about a modular helmet and Yema Ym 926 in particular.
Yema Ym 926 is designed as a the solution of complaints users generally make about a modular helmets like hard opening, extra weight, low quality shell etc. Yema brand is known for providing best features in helmets in an affordable price. So, let's see what we find in our test for this helmet.
Yema Ym 926 Motorcycle Helmet- A Detail Review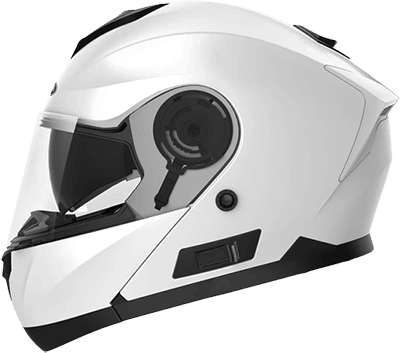 Outer Shell and Design
Shell of Yema YM 926 motorcycle helmet is designed to meet the needs of every kind of riders. It is constructed with ABS material, which is lightweight and durable. The design is very aerodynamic and stylish, which enhances rider's confidence.
The surface of this helmet has a matte-like finish that will help it stay clean for a long time. Apart from white color, this helmet is available in colors like black, grey and green.
In our long drive test, we found that it is a lightweight helmet and does not exert any extra burden on neck muscles. We also observed that streamlined aerodynamic design of this helmet resists the wind to minimise effectively the drag and noise.
In short, combination of high-performance materials and advanced design of Yema Ym 926 provide riders a style, strength and aerodynamic feature that ensure safety.
Interior and comfort
Yema Ym 926 motorcycle helmet is a very comfortable modular helmet. For the interior, it is made of multi-density EPS liner and soft and smooth pads that provide the rider an extremely comfortable experience. If cheek pads become sweaty and dirty you can easily remove and wash them. They are removable and washable.
The Multi-Density EPS reduces the impact on your head significantly in collision by absorbing the energy. In this way, this helmet not only provides comfort but also protects you from injuries.
This yema helmet is good for glass wearers as there is an extra space for it. The helmet has is no Bluetooth system. However, you can install Bluetooth or speaker system externally.
In another short words, Yema Ym 926 helmet is designed with comfort, protection and convenience in mind, so riders can remain tireless and safe for hours.
Ventilation of Yema Ym 926
What makes Yema Ym 926 even more cool helmet is its ventilation. This helmet features adjustable vents that intake fresh air and exhaust humid and hot air. Such ventilation system also helps to keep the rider cool and comfortable in any kind of weather condition.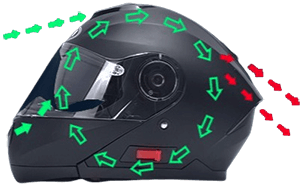 The brand boasts to have 360° ventilation in Yema Ym 926. There are two main vents in the front side. They include a big vent channel on chin bar and another wide one on the top. There are three vents at rear side. One main rear vent and two small reticular vent ports. All these vents work altogether to produce a light, continuous and circular flow of air inside the helmet.
As these vents are adjustable you can control the flow of air according to your convenience. By this you can also control the annoying noise at high speed.
Visor system in Yema Ym 926
The Yema Ym 926 has a dual visor system which includes a clear and smoke visor. It features an ultra transferent and anti-scratch visors.
The outer clear visor is ultra clear and has a180° wide vision. This allows riders to see the road and the surrounding clearly which helps to drive safely and to take right decision at a right time. This also allows you to enjoy the scenery without any obstructions but better you concentrate on the road.
The inner sun visor in this helmet protects you against the sun effectively. This visor can be operated with one finger when you want to flip it up or down.
Operating and changing visors in Yema Ym 926 motorcycle helmet is a very handy and user-friendly. This offers riders to have different visibility options depending on what they need at that time.
In our test-use both the visors worked smoothly without any problem.
Quick release system
The chin strap is the most important part of the helmet because it keeps the helmet in place and protects your skull during an accident. In addition to this, it must have quick release system. It helps in emergency situations when you need to get out of the helmet quickly because you are choking or in danger. Specially, when the rider falls and needs to get out of the helmet quickly.
Yema Ym 926 is safe this aspect. It is equipped with reinforced chin strap and has a quick release buckle. Just pull the strap and you are free from the helmet.
DOT aprroval
There is no need to worry about the quality and safety standard of Yema Ym 926 because it has been tested to meet the safety standards for DOT certification. It is always important to have DOT approval in motorcycle helmet because it ensure us that our journey is safe with the helmet.
Summing up
Yema Ym 926 is modular helmet designed with high-quality materials that are durable enough for extensive use. The outer layer of the shell is made from quality thermoplastic material that is anti-scratch, while the inner layer is made from standard EPS foam material that ensures energy absorption. This helmet has undergone rigorous testing for safety standards to protect riders from accidents. It is also equipped with dual visor and quick release system. The only thing it does not have is inbuilt Bluetooth and communication system.
Moreover, this full featured helmet is getting in an affordable price. Considering all the things, it is a good choice as a daily use motorcycle helmet.