If you are a regular motorcycle rider for any reason, then you certainly need the best motorcycle helmet for daily use. We use helmet to protect our head, our life and not just to follow safely rules. Therefore, when we use it on a daily basis, it must assure our head protection without any failure.
In my opinion, a daily use helmet should be our 'careful' investment. What I mean is changing the helmet every now and then is not practical. So, you must search such a helmet that should meet your requirements.
Strong, long lasting and comfortable motorcycle helmets are great for daily use. Following helmets are our tested helmets for strength and comfort features.
Top 10 Best Motorcycle Helmet For Daily Use
ILM 902L Modular Helmet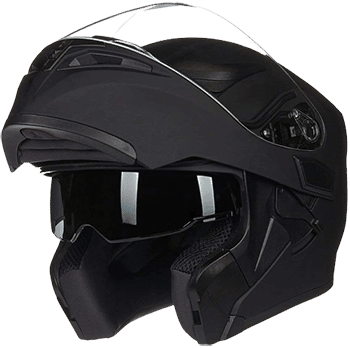 ILM 902L is the best motorcycle helmet for daily use in an affordable price. It is equipped with strength of ABS, dual visor system, innovative ventilation, speaker pockets and all necessary safety features.
Helmets for daily use are prone to wear out after a long period. Therefore, one must choose well built helmet where material used is long lasting. ILM 902L has advanced ABS shell that makes it not only strong but durable. The standard EPS foam provides protection from impact. The dual visor system of this helmet gives extra protection to eyes and face also the freedom of use.
The outer face shield is anti-scratch and anti-fog therefore, it will remain undamaged even after regular use. The helmet has speaker pockets to adjust communication system or Bluetooth device. The front and rear vents work well to provide proper ventilation.
This multi-special helmet is approved by DOT and meets FMVSS 218 safety certificates. So, if you are searching for a helmet for daily use this one is the best option.
GLX GX11 Full Face Helmet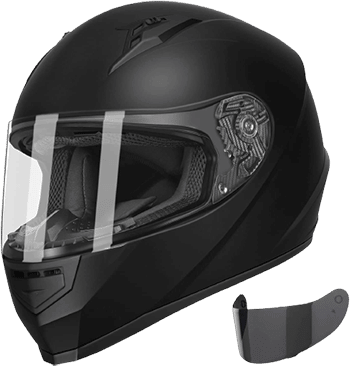 GLX GX11 is also a great helmet for daily use. We found this helmet as versatile as costly motorcycle helmets. The is made specifically for street riding and is full-fledged safety head protector.
Whether you ride on motorcycle, scooter or cruiser, this helmet is absolutely suitable for all types of motorbikes. For every day riding, we not only need head protection but comfort also. The compact and aerodynamic shell design with it EPS foam give maximum protection from impact. The foamy and soft padding is quite comfortable in short as well as in a long run. The interior is totally removable and washable.
The face shield of the helmet offers distortion-free vision with its 3D molded design. It also offers breath guard to avoid fogging problem. The helmet has excellent ventilation that includes operational chin and top vents and exhaust vents.
The helmet is featured with quick release system and it has maintained quality of chin strap. I will certainly consider this DOT approved helmet as the best helmet for daily use.
Bell Qualifier Best Helmet for Daily Use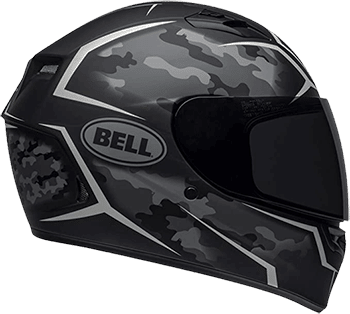 Why Bell is successful in helmet market is its pro riders strategy. The brand is constantly delivering quality helmets keeping in view motorcyclists' daily needs. It's Qualifier is very popular motorcycle helmet for daily use.
Constructed with ABS and polycarbonate, this helmet has become lightweight and durable which is good for daily and regular use. The helmet provide maximum comfort inside the helmet to keep your daily journey free from fatigue. Not only this, anti-bacterial liner protects you from infection caused by sweat and dust.
The face shield is anti-fog, also anti-scratch and gives you clear view without any fault. It is equipped with velocity flow ventilation and wind collar to give you noise free and safe ride. Double D-ring closure system of the helmet provides best retention on head.
As far as safety is concerned, it is approved by DOT and meets FMVSS 218 safety standards. You can surely consider it as your best motorcycle helmet for daily use.
ILM 953 Flip up Full Face Helmet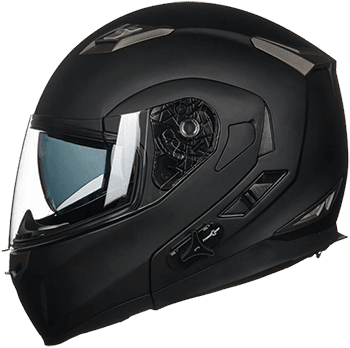 I am sure, this wonderful helmet will win your heart once you know its features. ILM 953 not only protects you but also takes full care of your communication. So, if you are the one who needs to communicate while riding or like music while driving then this helmet is perfect for your daily ride.
ILM 953 offers you built in communication system that includes Bluetooth system, MP3 intercom. You can realise the high quality of system even at high speed. You can operate the system very simply without taking a pause or stopping just to receive the call or tune in music.
The shell of the helmet is strong enough to give safety as well as its EPS liner provides protection from impacts. The helmet is very lightweight so there would not be bad effects on your shoulder or neck because of weight. The comfortable interior adds an extra value to this helmet.
The face shield of ILM 953 is anti-scratch and is extraordinary clear. The ventilation, the quick release system, the flip up functionality all makes it the best motorcycle helmet for daily use.
Triangle Full Face Helmet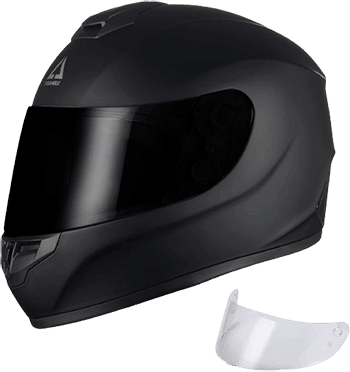 Triangle full face helmet is also very popular among motorcyclists as best everyday motorcycle helmet. It's because of its affordable price and the safety features it offers within this price range.
The outer shell of Triangle full face helmet is made of ABS (Acrylonitrile Butadiene Styrene) that gives the helmet strength and durability. Multi-density EPS liner powerfully obsorbs the impact to protect skull. The interior is soft, comfortable, removable and washable to maintain hygiene.
The big vent port on chin and top vent port provide ample airflow and exhaust vents let the hot air go outside. So, the ventilation is systematic. The helmet comes with two visors, clear and tinted one. These anti-scratch visors give clear view and protect from dust and UV rays.
The helmet has quick release system. The strap is made of high quality material that gives extra security and best retention. So, with all its amazing features it becomes one of the best motorcycle helmets for daily use.
AHR Run M-3 Modular Helmet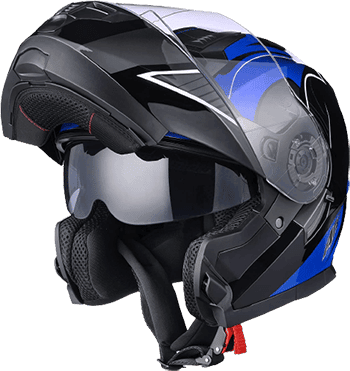 In the series of best motorcycle helmet for daily use, it will be unfair if we do not mention AHR Run M-3 modular helmet. This helmet is equally capable of protection and safety. Like other above-mentioned helmets this helmet also will not rob your pocket.
You will find almost every feature you expect in a daily use helmet. Strong and lightweight shell made up of standard ABS and high density EPS liner makes this helmet protective in a mishap. Soft and foamy cheek padding gives you comfort while driving. The padding removable and washable.
The helmet offers double visor system that includes outer face shield and inner sun visor. We found both visors are strong and having clear view. The ventilation is also more than satisfactory in this budget.
This helmet has aerodynamic design which helps to minimize drag while riding in speed. This helmet provides quick release system with well built strap. Over all, this helmet is a better option as a daily use helmet.
FreedConn BM2-S Modular helmet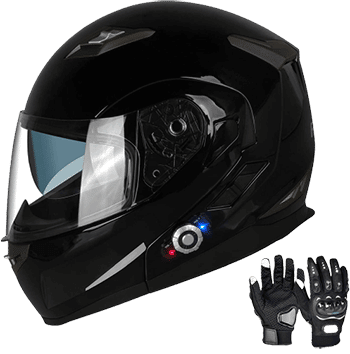 There are many people who need communication while driving motorcycle. Even a common man who goes to office or his workplace everyday needs to talk when on motorcycle at times. For these people, FreedConn BM2-S Modular helmet is very useful as daily ride helmet.
This helmet comes with built-in Bluetooth device. There are really very few helmets in this low budget that offer this facility. You can connect upto 3 riders in the range of 800 meter. Importantly, you can easily connect your mobile for calling and to listen music.
Along with Bluetooth and intercom facility, this helmet is prominent in protection of your head. It is modular helmet. So, it gives you freedom of use. Wear it as an open face helmet or a full face helmet. The quality of interior material is also standard to provide you best comfort.
This helmet is also featured with other important features like 3 dimensional ventilation, strong face shield, quick release system etc. For the best motorcycle helmet for daily use, it is a good choice.
Yema YM-831 Best Everyday motorcycle Helmet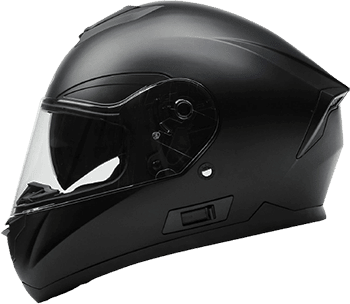 Yema YM-831 full face helmet is an aggressive looking yet decent helmet. The reason why we put this helmet in the category of the best motorcycle helmet for daily use is its functionality, impressive features and its low price.
Full face helmet is always a right choice, particularly when you have to use it every day. That being said, not every full face helmet is suitable for daily use. But Yema YM-831 is a strongly built helmet with ABS shell and multi-density EPS. Its aerodynamic design makes your daily journey easier.
The interior of this helmet is pleasing that includes laser-cut foam, soft and thick padding. Importantly, it is one of the best helmet for glasses. It offers additional space for specs. It also has chin certain for protection from cold air, dust and other elements.
The adjustable vent ports and internal ventilation system, quick release system, anti-scratch and UV resistant visor are its another special features. All these makes it best everyday motorcycle helmet.
HJC CS-R3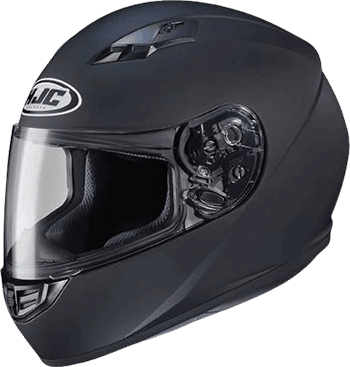 HJC CS-R3 street motorcycle helmet is something one can not ignore while searching best motorcycle helmet for daily use. The brand has given more emphasis on safety and comfort in this helmet. That great if you are an every-day-rider.
The HJC CS-R3 Helmet is a lightweight, high-quality helmet with a shell made of Advanced Polycarbonate Composite. The helmet has an improved comfortable interior that provides great comfort to keep you relaxed while riding your bike. The helmet is built with CAD (Computer Aided Design) technology for advanced safety, comfort and fitting.
The helmet uses advanced channeling ventilation (ACS) sytem for the proper and needful ventilation. The quality of face shield is also good and it is easy to operate. The double D ring closure system gives safe and convenient retention on head.
The HJC CS-R3 helmet is a great example of how CAD and ACS technology can be used to create a more comfortable, functional, and safe helmet. The helmet is approved by DOT, so it is also safe on road for your daily journey.
ScorpionEXO EXO-ST1400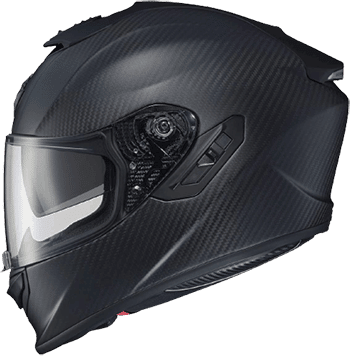 Scorpion EXO-ST1400 helmet is a great choice for riders who want best motorcycle helmet for daily use that offers a plush, comfortable fit and exceptional protection. If money is not the matter for you to invest in safety then it is the helmet for you.
The Scorpion EXO-ST1400 is a premium model from Scorpion that features the latest technology in shell construction and aerodynamic design to deliver top level protection. Carbon fiber shell construction provides optimum strength and light weight. The Kwikwick III interior liner is very comfortable, removable and washable. It keeps you dry if sweating and odor free.
This helmet has many plus points. The aero tuned ventilation system of the helmet offers improved airflow for better temperature regulation. It has anti-fog, anti scratch visor. It also comes with one pin lock visor that is an addition benefit. It also has speaker pockets for communication system.
We have seen best motorcycle helmets for daily use that are budget friendly so far. But this ScorpionEXO EXO-ST1400 full face helmet is little bit costly. Having said that, if you are really concerned about your safety on road then this helmet is an ultimate choice.
Buying guide for the best motorcycle helmet for daily use
Motorcycle helmets are meant to meet our various needs while riding. Safety and comfort is usually the top priority, followed by durability and ventilation. It's important to note that while you can buy a helmet without any bells or whistles, there are some features that will make your daily ride safer and more comfortable. This guide will help you find the best motorcycle helmet for daily use so that you don't get stuck with just any old thing!
Safety features of a motorcycle helmet
The most obvious thing we expect from the helmet is safety. We wear helmet to protect our head from any blow and injury that we get in an accident. It is also to protect from external elements, for example, dust, flying insects, debris, dropping leaves, rainstorms, snowfall etc. Therefore, we must check the building material and safety feature of the helmet. It becomes more particularly when we are finding it for daily use. DOT, ECE, or SNELL certified helmet are going to be your best bet. These ratings indicate that the helmet has been tested and inspected by an approved body of experts in order to make sure that it meets some very specific standards for safety.
Helmet comfort
The second thing to check for when buying a motorcycle helmet is comfort and fit. You may not realize it now but riding with an uncomfortable helmet could lead to neck pain after only short periods of time. The best motorcycle helmets come with thick padding on the inside for better comfort. They also help to protect your head in case of an accident. So, see that helmet is comfortable and lightweight.
Fitment for daily use helmet
A good fit can make all the difference in your ride, especially if you are going to be wearing it every day. The best way to find out if a helmet is too loose or too tight is by trying it on. If you have no doubt or you see the facility to change it later then go for online purchase. Follow the measurement instructions and order it.
Helmet ventilation
When it comes to ventilation, you want a helmet that can keep your head cool on hot days. A good ventilation system allows air circulation work around your head and maintains the temperature. It also helps reduce fogging when riding at night time or in heavy rain conditions or in cold weather. Check that chin vent, top vent and rear vent work properly. Adjustable ventilation is best because then you can regulate the air flow.
Durability of a motorcycle helmet
A good helmet must be made of strong, sustainable and durable materials. Durability matters a lot because changing helmet after a very short period of time is not affordable. Durable helmet keeps their quality intact for a long time. Good material does not loose the fitting and create discomfort when wearing it for long duration. Such helmets are also able to withstand a crash as well as impacts from other objects like rocks or trees.
Budget-friendly helmets
No matter how expensive helmets are or how helmet brands claim, but the helmets that you wear every day get spoiled quickly. Comparatively expensive helmets will last a little longer. But due to daily dust, sweat and other external elements, they also get spoiled before their age. Therefore, accordingly to me, choose such helmets which are medium priced and which give good features. So, for daily use motorcycle helmets your budget should be middle range, it is my honest opinion.
Set up for communication device
Motorcyclists who trvallel or ride on motorcycle every day are generally office going people or people working in companies. They have to keep contact with their companions or family members even when they are riding. It is not practical every time to stop just to pick up calls. Therefore, it is important to have Bluetooth helmets or set up for communication device so that you can install the device later on. So, your best motorcycle helmet for daily use should be the one that have seyup for Bluetooth space for speaker pockets. The better if it is a Bluetooth helmet.
FAQs
Which is best helmet for daily use?
Bell Qualifier will be my first choice for daily use. It is an all rounder helmet offering competent safety and comfort features. However, it also depents on your personal choice and the conditions where you make your journey.
What is the best and safest motorcycle helmet on daily basis?
The the best and safest motorcycle helmet on daily basis is the one that gives proper protection, fitmentn and comfort. It should also suits your personal style, head type and size. Therefore you must consider all these points before you go for shopping.
What style motorcycle helmet is the safest?
Without any hesitation I would say full face helmet is the safest type of helmet. It fully covers your head, face including your chin. Other type of helmets protects only the skull part but lower part like chin is vulnerable to external blow. So, full face motorcycle helmet should be your priority.
Conclusion
When choosing the best motorcycle helmet for daily use, you need to consider what kind of riding you do and how safe it is at each level. As you drive motorcycle everyday you should also think of the safety at first place. Then the comfort level as well as fitment according your head shape and size. Also, make sure that it has all the necessary features you will need for your daily riding. We have already recommended the best motorcycle helmets for daily use for you!