It's always been a pleasant and soothing feeling when we get such a helmet that takes care of your age, safety and retro helmet style. It is even more hitting the spot when your pocket and your helmet requirements go hand in hand. There are so many retro helmets in the market but I consider Torch t1 helmet worthy because, it is affordable and has unique quality features. And if you like retro style like me, you have landed on a right place to see Torc t1 helmet review.
Since the very first motorcycle helmet to the modern motorcycle helmets, there is always an advancement in protection, comfort value and quality. In this process of upgradation some brands tried to keep old values, strength and look intact in harmony with modern features. The retro motorcycle helmets are usually styled after the helmets from the 1970s, with the blend of the modern day safety measures that come with it. In this Torc t1 retro full face helmet review, we will try our best to evaluate without any favor how Torc manage to make this torc t1 retro helmet valuable.
This all round Torc t1 Retro Helmet Review is consist of all main aspects namely, shell construction, design, comfort, liner, ventilation, shield, communication device set up and all.
Torc T1 Retro Helmet – An Overview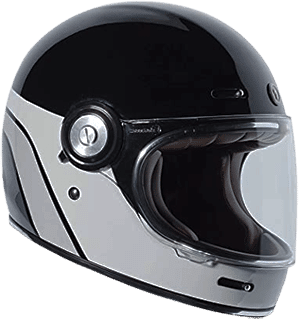 TORC is a helmet brand that is dedicated to bring you the most original designs in the motorcycle industry. It is unique in innovation with its focus on safety and a custom fit. The Torc T1 retro full face helmet is yet another Torc helmet with a modern twist on a classic design. Featuring a retro style and modern finishing, it offers an ultimate riding pleasure and safety on the road.
The Torc T1 is a retro full face helmet that has been designed to meet the needs of riders who want a vintage look with modern features. It is constructed with Fiberglass Tri-Composite, which is famous for durability and lightweight value. The helmet includes front chin vents with metal mesh intake and exhaust vent, removable shield, faux suede liner, padded chin strap with D-Ring closure and multi-density EPS.
Actually speaking, our team of 10 including some friends used this helmet and drove motorcycle at middle to high speed. After the drive what we found is what this torc t1 helmet review all about. Half of our team went for ride in the morning, whereas the half team went in the evening time. Half team used hand gloves and we did not provide hand gloves to the rest. And the experience was almost same with some difference. Amazing!
So, without any delay, let's jump to torc t1 helmet review and know more about Torc retro helmet. Before doing it, I must tell that all Torc T1 retro unisex helmets are same. The only difference between them is color and graphics.
Latest Torc t1 Helmet Review – Unisex Retro
Outer Material and Design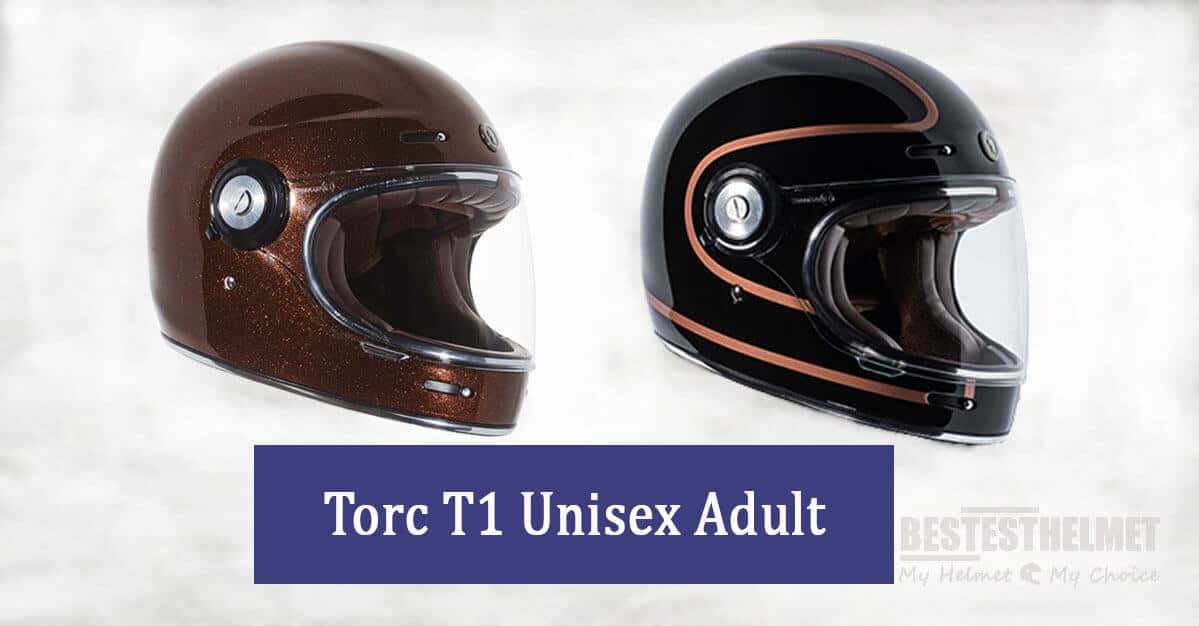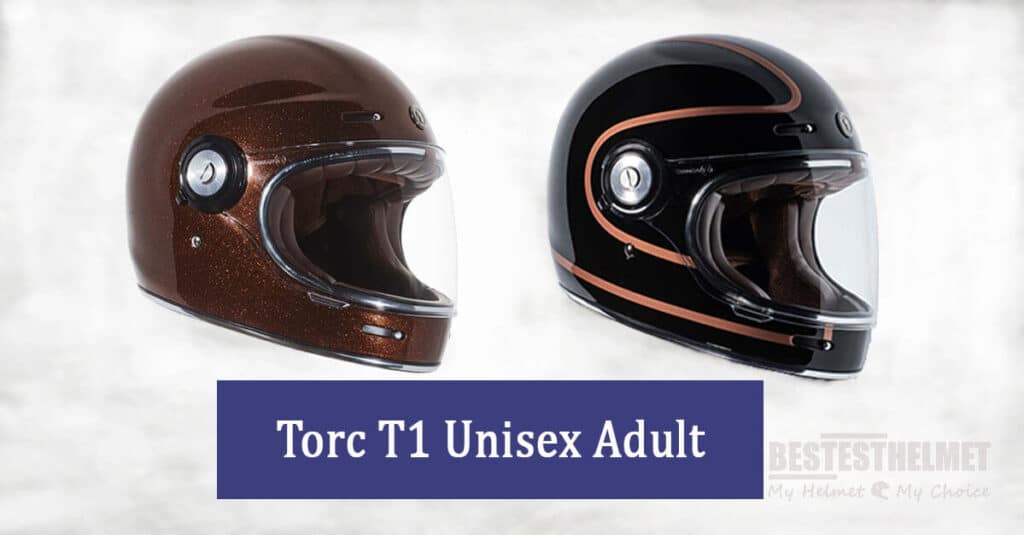 Torc t1 retro helmet has a shell construction of fiberglass tri-composite. This material is well known for strength, durability and protection from impact. Not only this, it is a very lightweight material. This Torc t1 helmet weight is 4 pounds and I think it is not too much for a full face helmet. In short words, use of fiberglass means that the helmet is not heavy on your neck and you don't have to worry about neck pain. (Its variation also comes in Carbon Fiber material which also is a very good option)
One important thing to mention is that we tried a blunt but pointed plastic knife on our new Torc t 1 helmet. Actually. We tried to scratch the surface but to our wonder, there were no marks of scratches on the helmet. It finishing is wonderful with modern paint technology. Also, this is the beauty of fiberglass material which is scratch resistant.
The outer shell finishing provides outstanding modern design that suits the new generation. Torc t 1 helmet gives freedom to choose different colors and graphics that will attract to your mind. Indeed, it is perfect for the riders who want to have a dashing look while having protection on their head.
Interior and comfort
The interior of this Torc full face helmet is made of faux suede liner and multi-densied EPS foam. This makes it soft and lightweight. Also, both the materials work very well to absorb impact energy and give high end comfort. The faux suede liner is removable and washable that makes it possible to maintain cleanliness after every use. This material also helps to keep the head cool by drawing sweat away from it. Hence the foam padding is multi-densed, it ensures that the head is protected from all angles.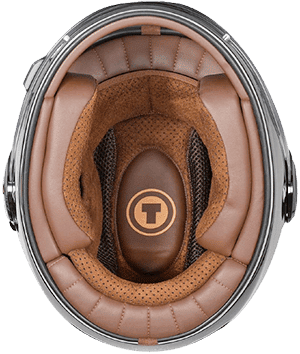 What we observed is, this Torc retro helmet is a high-end helmet which is designed for riders who are looking for the best possible comfort. The helmet has a high end comfort that comes from its interior design, which includes quality materials and an ergonomic shape. Surprisingly, Torc t1 helmet review for comfort from all our team members was the same. That is, the comfort level of this helmet is amazing!
Ventilation System
Ventilation is a special aspect in the design of any helmet and has its own importance. Torc t1 retro helmet has a unique ventilation system that provides effective cooling of the head and face. The helmet features four intake front vents with metal mesh. Two of them are on the head portion and two on the chin side. It also has four exhaust vent points on backside of the helmet. All these vents ensure regular circulation of cool and fresh air.
The front chin vents provide a way for fresh air to circulate through the helmet and cool down the rider's face. At the same time two front head intake-vents serve cool and fresh air inside the helmet. The rear exhaust vents allow hot air to escape also take out the humid air from inside. In this way, there is a constant flow of fresh air into the helmet.
You can open and close the front vents with the help of small toggles according to your convenience. If speaking candidly, we found that the head vent toggle action is little bit firm to slide on and off. On the top of it, our hand gloves wearing team found it difficult to locate and close the front head vents. But overall, the ventilation is quite good. It will be unfair if I not mention in this Torc t1 helmet review that actually it excells in ventilation if we compare other retro helmets.
Torc t1 helmet review for Shield and Visibility
The Torc t1 helmet has a wide visor for improved visibility. The shield is anti-fog and anti-scratch. It is specially designed to keep the visor clear and free of scratches and fog. The wide visor provides a better visibility in all types of weather situations. This is worth mentioning because the visibility is important for the rider's safety.
Anti-fog visor ensures that there is no fogging on the visor when we drive in winter or in cold weather. This is very advantageous specially in a high-risk environment. The anti-scratch coating prevents outer elements like dust and small stone particles from making scratches on the shield. Thus, it saves the visor from becoming blurry in a long run.
The visor is retractable and removable. The helmet provides safety lever so that the shield remains intact in its open or close position. However, you can keep the visor only in two positions. Either, you drop down the visor fully to close position or totally up in an open position. There is no arrangement for middle position.
Fitment of Torc T1 Retro Helmet
A motorcycle helmet is a safety gear that riders wear to protect their head from any head injuries in the event of an accident. Helmets are available in different sizes, shapes, and models. There are several reasons which make it necessary for a helmet to fit properly. A good fitment ensures that the rider does not experience any movement of the helmet while driving. It also ensures that there is no intervention in peripheral vision.

In our case, most of the team members' head size is S with some exception. For us the size is perfect fit and to some it is snug. And that is alright. We recommend that you should choose the right size for your helmet before the order. The best way to do this is by measuring your head circumference at the forehead level and then selecting a size accordingly from the sizing chart given by the Torc t1 helmet. Generally there is no problem with t1 head shape that is round. No need to confused with torc helmets review for size.
Torc T1 Size Chart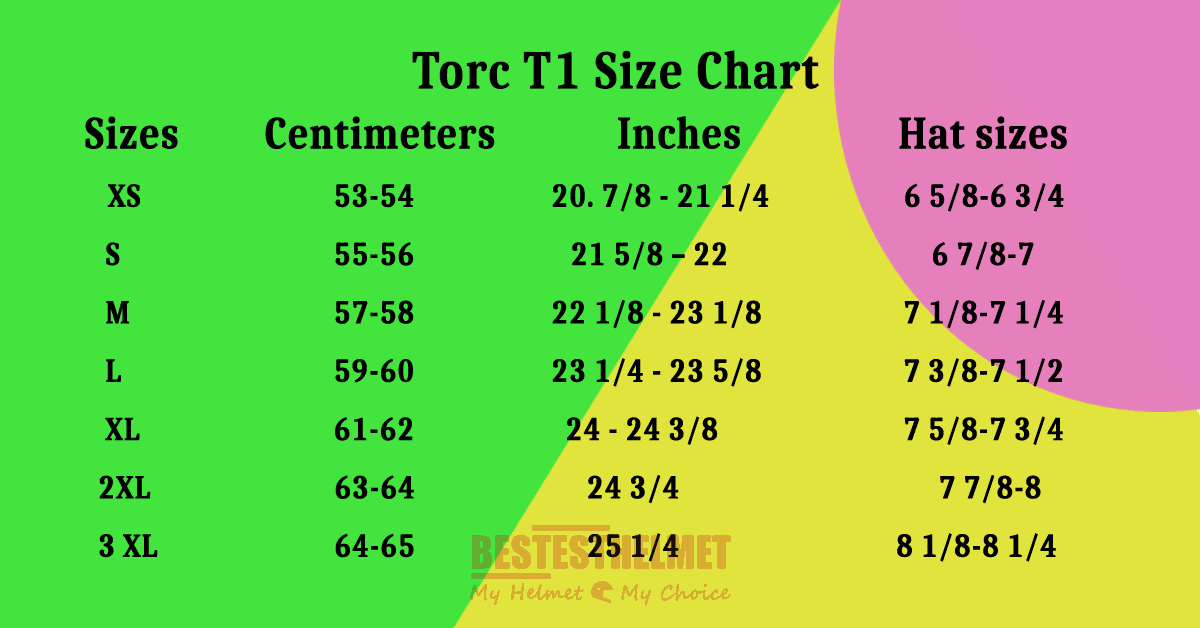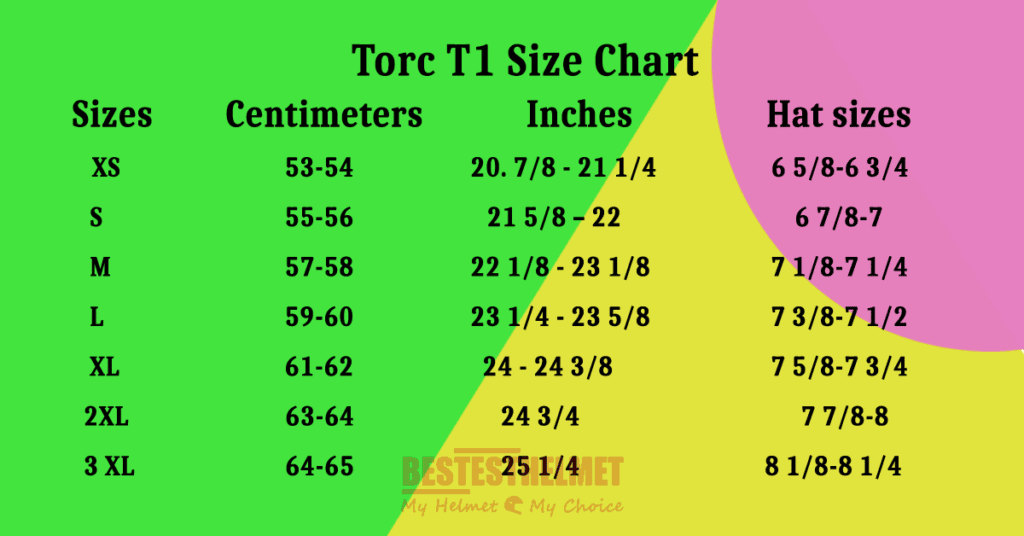 Chin Strap & D-Ring Closure in Torc T1 Retro Helmet
The chin strap is an important segment of a motorcycle helmet. Torc t1 retro helmet has well built padded chin strap. Such padded chin strap ensures that you get maximum and constant comfort to your chin while driving. It also helps to protect chin by absorbing impact in the case of any mishap. It is made up of high quality material which makes it strong and long lasting.
The Torc T1 motorcycle helmet has a D-Ring closure system which makes it easy to put on or take off. It provides a stable fit and prevents the helmet from sliding. D-ring is better and secure if we compare it to other locking systems. Generally, it is found in high end helmets. Some people find it difficult to operate but believe me, it is super easy once you know it.
Safety Certification
This Torc t1 retro full face helmet is DOT and ECE approved. It has got DOT FMVSS-218 standard safety certificate as well as ECE number 22. 5 certification which necessary in European countries.
Motorcycle helmets and those also, which are govt. body approved are required by law in many countries. These laws are important as to keep you safe on the road as well as save you from unsafe and treacherous products.
Therefore, DOT approval is an important factor as far as motorcycle helmet safety is concerned. It is the certification that tests and certifies a helmet for impact protection, penetration protection, and retention strength.
Summery of Main Features:
Outer Material : Fiberglass Tri-Composite Shell (Carbon Fiber Models are also available)
Interior : Multi density EPS and Faux Suede Liner
Design and style : Retro
Ventilation : Four front and four rear vents
Shield : Removable, retractable, Anti-scratch and Anti-fog
Safety Certification : DOT and ECE
What we like in Torc t1 retro helmet?
We are pretty impressed with the design and finishing at first glance. The combination of faux suede liner and multi-density EPS to make the helmet safe and comfortable is quite adorable. The ventilation is superb with its properly placed intake and exit vents. The visibility of the shield is worth mentioning. The quality of inside fabric is classic. We really like it. I will appreciate if I get such retro style helmet with modern features in affordable price and you can understand this after reading this Torc t1 helmet review.
What we don't like?
One of our team member experienced wind noise at very high speed. Absence of breath guard, only two positional shield and front head vent firm toggles are the things Torc should work on.
Some Important FAQs
Are torc helmets any good for motorcycle riding?
Of course, yes. Torc is a famous motorcycle helmets and accessories manufacturer. The company is well-known for its high-quality helmets and a trusted brand in the motorcycling community. They are popular for their innovative designs and use of the latest technology.
Torc helmets are well-built using latest technology and high quality materials. They provide modern designs, protection, comfort, ventilation and other necessary features promptly. Importantly, they have got DOT safety approval. Its T1 retro helmet and Bluetooth helmet series are very popular among motorcyclists.
Do the Torc helmets run small in size?
The straight answer is no, they do not. Well, it depends on what type of your head is and how you choose your size. It not just Torc but it also happens with other brands. If you order helmet without properly measuring your head this problem gonna happen. In my case, it fits perfectly. It is not possible that all Torc helmets run small in size. If it happens you can return and get new one.
Is there any space for Bluetooth in Torc T1 retro helmet?
In Torc t1 retro helmet, there are small round cut-outs inside the helmet for installing Bluetooth device. You can easily place Bluetooth without any problem. However, you may have to make a little bit adjustment if the device doesn't fit properly. Otherwise it is OK.
What material is used in Torc T1 helmets? Carbon Fiber or Fiberglass?
This is an interesting question. The simple answer to this is, some Torc T1 models are made with Fiberglass and some models are constructed with Carbon Fiber. It is up to you, what type of material you are going with. I find no Torc t1 helmet review has cleared this fact. So, I think this information will help you.
Are these TORC helmets DOT approved?
Yes, they are. The brand Torc makes all helmets in accordance with the state law. Whether it is shell construction, comfort or protection ability all these along with other safety standards are tested and approved by DOT.
Final Remark
After using the helmet we come to the conclusion that Torc t1 retro helmet is full-fledged helmet with almost every safety and comfort features which we already discussed in this Torc t1 helmet review. As they say, nothing is perfect in this world. Therefore, it would be not right to say that this gear piece is a totally perfect in every aspect. Having said that, if you compare other retro helmets this helmet stands out in overall design, material, comfort and ventilation.
So, that's all for Torc t1 retro helmet, have a happy riding!