If you are looking for a helmet that can handle both on-road and off-road riding, you should consider to have a lightweight dual sport helmet. This type of helmet combines the features of a full-face helmet and a dirt bike helmet such as a peak, a large eye port and good ventilation. It is designed to offer comfort, protection and flexibility for any tough riding tracks.
Here, you will get an unbiased review of the best lightweight dual sport helmets that are tested by our experts. Speaking candidly, there are numerous helmets claiming both comfort and protection for adventurous riders but some of them are not even worth mentioning. However, here we have found only genuine dual sport helmets that are really lightweight, full of protection and comfort features.
So, why delay in discussing the main issue? Let's get started.
Amazing 10 Best Lightweight Dual Sport Helmet
Arai XD-4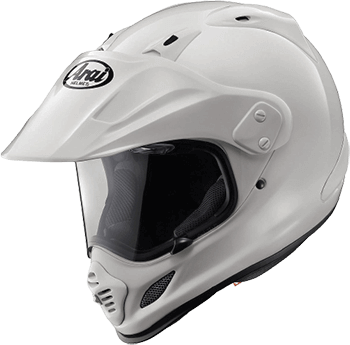 Arai XD-4 is one of the most popular and highly rated lightweight dual sport helmet on the market. It has a Snell M2020 certification that shows it meets the highest safety norms for both street and track use. The fiberglass composite shell makes it really a lightweight and comfortable helmet.
This Arai dual sport helmet has a redesigned shell shape that improves aerodynamic stability and reduces drag and lift at high speeds. It also has a new face shield design that offers twin-cam shield Pivot System. The peak is removable and adjustable. Its top, chin and exhaust vents provides constant air circulation to keep you cool and free from fatigue.
It is not a cheap helmet, but it is worth the investment. Because of its Bluetooth compatible space structure, it is also known as the best dual sport helmet with bluetooth. If you want a high-quality and lightweight dual sport helmet that can give its best at any track, then Arai XD-4 can fulfil your desire.
Pros
Snell and DOT certified
Comfortable and customizable fit
Improved aerodynamics and ventilation
Removable and adjustable peak
Cons
Expensive
Noisy at high speeds
Also read this article on DIRT BIKE HELMETS.
Bell MX-9 Adventure MIPS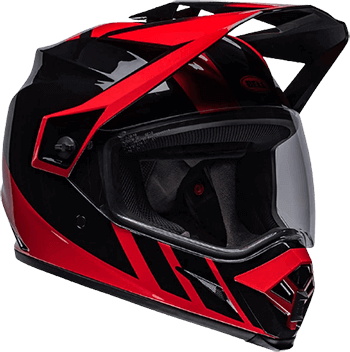 Bell MX-9 Adventure Mips is a versatile and affordable lightweight dual sport helmet that can adapt to different riding scenarios. It has a MIPS liner that helps reduce rotational forces on the head in case of an impact. It has a robust polycarbonate shell. It comes in three sizes so that you get a personalized fit.
This helmet has an integrated and removable face shield that offers anti-fog, anti-scratch and UV protection. The shield can be flipped up or removed completely to accommodate goggles in extreme conditions. Its peak is remarkable and helps a lot in its aerodynamics. The velocity flow ventilation of the helmet offers you fresh air flow through out the track.
It offers a moisture-wicking, removable and washable liner that keeps you cool and comfortable. The helmet is comfortable with soft cheek pads that have space for headphones. The helmet has DOT approval and meets FMVSS 218 safety standards.
Pros
Tri-weave composite shell for strength and lightness
MIPS liner for rotational impact protection
Conehead EPS technology for impact absorption
EPP chin bar for extra protection
Comfortable and washable liner
Superb ventilation system
Cons
Visor may not be adjustable
No face shield included
Scorpion EXO-AT950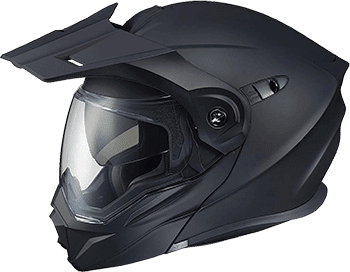 Scorpion EXO-AT950 is a lightweight dual sport helmet that offers the convenience and versatility of a modular helmet with the features and performance of an off-road helmet. It has an advanced polycarbonate shell that is engineered to be strong and lightweight, and a dual density EPS that provides superior energy displacement.
It has an integrated and removable face shield with UV protection. It is anti-scratch and anti-fog too. The face shield can be flipped up or removed to allow the use of goggles in extreme conditions. The peak is also removable, functional and adjustable.
The Scorpion EXO-AT950 has a comfortable liner and quick release cheek pads. The material used in them is moisture-wicking to maintain you comfortable with dry fabric. Talking about the ventilation, it is really satisfactory. The helmet is DOT approved so without worrying about traffic laws and safety you can drive your motorcycle.
Pros
Modular design for convenience and versatility
Integrated and removable face shield
Removable and adjustable peak
Comfortable and washable liner
Ultimate ventilation system
Cons
No MIPS liner or ECE certification
Chin bar may not be very sturdy
LS2 Explorer Carbon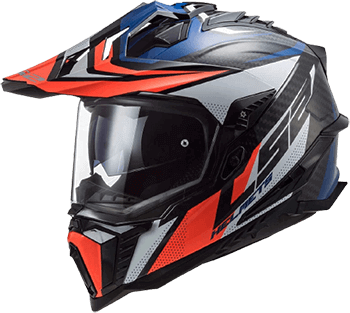 LS2 Explorer Carbon features a high performance 6K carbon fiber shell that offers strength and lightness. Actually, it is known for its lightweight structure. That is why it is impossible not to mention LS2 Explorer Carbon when one has to talk about the lightweight dual sport helmet. The shell comes in three sizes for a personalized fit.
This helmet has a "A Class" polycarbonate face shield that is optically correct and Pinlock-insert-ready. The face shield is also scratch-resistant and offers the quick release mechanism so that you can replace it without any tool. The helmet has a built-in drop-down sun shield that offers UV protection and can be operated with gloves on. Moreover, you remove or adjust its peak. It has large ports for maximum air flow.
This particular LS2 dual sport helmet has a comfortable liner and 3D laser cut cheek pads that are made of moisture-wicking stuff. The interior is removable and washable and have hypoallergenic properties. The helmet has a fully adjustable dynamic flow-through ventilation system that provide fresh cool airflow throughout the riding. The helmet has a D-ring chin strap closure for security.
Pros
6K carbon fiber shell
Quality sunshield
Removable and adjustable peak
Emergency release cheek pad system
Fully adjustable ventilation system
DOT and ECE 22.05 certification for safety
GMAX GM-11 Dual Sport Helmet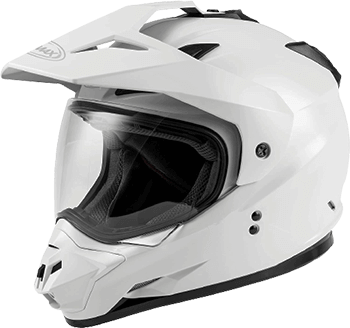 GMAX GM-11 is truly a lightweight dual sport helmet for almost all off-road and on-road tracks. It has a thermoplastic shell that is strong, robust and durable. Most importantly, it is lightweight to provide you extra comfort and burdenless riding in any motorcycle sport. That is why it is considered as the popular lightweight dual sport helmet.
The helmet has a large eye port for accommodating large size goggles. Not only that you can wear goggles and close the face shield comfortably. The face shield can be quickly released for easy replacement. It comes with a removable and adjustable peak and has vents to reduce wind lift. The chin bar can be opened or closed with one hand.
The liner and cheek pads of this helmet are of premium quality. It also has integrated speaker pockets for communication systems. The helmet has a sun visor that blocks the sun promptly. The front and rear exhaust vents provide proper ventilation. The GM-11 is DOT approved and meets FMVSS 218 standard, which means it meets the safety requirements for both street and off-road use.
Pros
DOT approved and meets FMVSS 218 standard
Large eye port and face shield
Removable and adjustable peak
Washable moisture-wicking liner
Integrated speaker pockets
Cons
No MIPS liner or ECE certification
No drop-down sun shield
ILM Off Road Dual Sport Motorcycle Helmet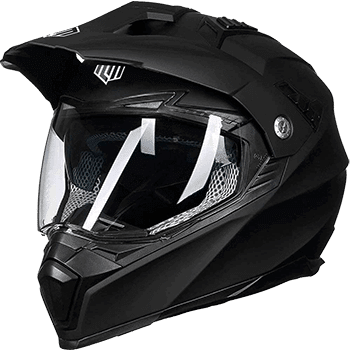 The ILM Off Road Dual Sport Motorcycle Helmet is a budget-friendly lightweight dual sport helmet that offers a full face sun visor and a dirt bike style peak. The helmet is DOT certified and has a polycarbonate shell that is durable and impact-resistant. The helmet also has dual visors that provide clear vision and UV protection.
This helmet has a wide angle chin strap that is easily adjustable and holds the helmet very securely. The chin strap also has a quick release buckle for convenience. The helmet gives freedom to remove the interior and the liner and wash it for regular cleanliness. The material used for interior is moisture-wicking and breathable too. The liner also has ear pockets for communication devices.
ILM Off Road Motorcycle Dual Sport Helmet has a vented peak that reduces wind drag and allows airflow. The helmet also has multiple intake and exhaust vents that circulate a constant flow of fresh air inside the helmet. The helmet comes in various colors and sizes to suit your preference.
Pros
DOT certified
Full face sun visor and dirt bike style peak
Wide angle chin strap with quick release buckle
Washable liner with ear pockets
Vented peak and multiple vents
Cons
No MIPS liner or ECE certification
No emergency release cheek pad system
Shoei Hornet X2 Helmet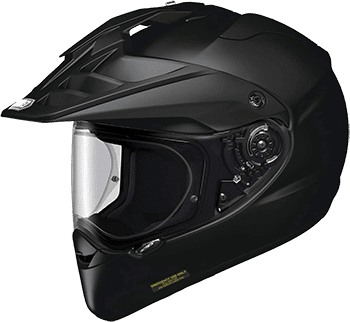 Shoei Hornet X2 Helmet is a premium helmet that offers dual-sport enthusiasts the perfect comfort and safety throughout their journey. The Hornet X2 is designed to offer an outstanding performance in any condition without compromising the safety of the rider. The Hornet X2 has a DOT certification as a safety standard. It is also consided as the safest dual sport helmet.
The face shield is removable, adjustable and easy to operate. The shield is optically correct and offers you maximum view of the road and both side area. It is anti-fog and anti-resistant for more convenience and durability. The helmet has multiple intake vents as well as rear vents that gives the best results regarding ventilation.
The interior of this Shoei dual sport helmet is so comfortable that if your helmet is of the right size, you will never feel like getting tired because of tightness and weight. The helmet comes with emergency quick release system which is very useful in a mishap or an accident. If you really want to buy a lightweight dual sport helmet and little more budget then you should consider this helmet.
Pros
Premium standard outer shell
Aerodynamic functionality
Quality shield for clear vision
Washable moisture-wicking liner
Excellent ventilation system
Emergency quick release system
DOT certified
Cons
Expensive
Size issue may occur if not select proper helmet size
MMG Helmet Dual Sport Model 23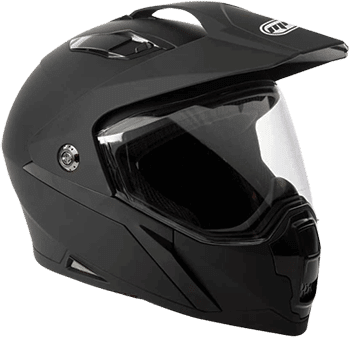 MMG Dual Sport Helmet Model 23 is one of the most popular dual-sport helmet among sport motorcyclists. It is because of main three reasons. First, it is very much affordable. Second, it offers most of the features that a costly helmet offers. Third, it is a lightweight dual sport helmet.
This helmet is made of standard Polycarbonate material that makes it robust, lightweight and long lasting. It has a multi positional visor that can be locked into various ridges and angles. The visor can be flipped up or down to suit different riding conditions. Moreover, it has a wide and large eye shield which can accept large goggles easily.
It has a comfortable liner and paddings that are detachable and washable. The brand has maintained the quality of the interior despite of its low price. The helmet also has a wide angle chin strap which simple to operate. It has a quick release buckle for the convenience of the rider.
Pros
Full face protection
Large eye port and clear flip-up wind shield
Detachable and washable liner and ear pads
Quick release system
DOT approved and meets FMVSS 218 standard
Cons
Need to select the size more carefully
No drop-down sunshield or face shield
HJC DS-X1 Synergy Lightest Dual Sport Motorcycle Helmet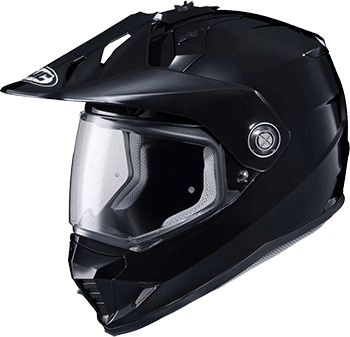 HJC is a popular helmet brand and they have been manufacturing helmets for different track conditions using latest technology. HJC DS X1 Synergy is one of them. This helmet is a great lightweight dual sport helmet which is crafted with Advanced Compact Polycarbonate material with the help of CAD technology.
The interior of the helmet is furnished with standard materials making it very comfortable. The material is moisture-wicking so there is no need to worry about allergy caused by sweating. This helmet offers a large wide eye port for better visibility and also for goggles accommodation. You can also use Pinlock-ready HJ-27 face shield.
As far ventilation is concerned there enough intake vent ports chin bar also on the top. Rear vents are designed to take humid air out. This lightweight dual sport helmet is DOT approved ensuring your safety on road as as on off-road tracks.
Pros
Advanced Polycarbonate Composite Shell
Pinlock-prepared HJ-27 shield
Built-in drop-down sunshield
Removable and adjustable peak
Moisture-wicking liner with Super Cool technology
Excellent ventilation system
Cons
No MIPS liner or ECE certification
No modular design or chin bar
No integrated or removable face shield
Fly Racing 2022 Adult Formula CC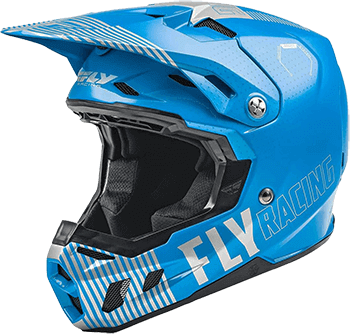 Fly Racing 2022 Adult Formula CC is a premium quality lightweight dual sport motorcycle helmet that has amazing features. Tri-weave composite shell has made it so lightweight that it has become the apple of racing-motorcyclists' eye. It mainly consist of carbon fiber, fiberglass and DuPont Kevlar. These materials also make the helmet strong, robust and long-lasting.
One of the amazing features of this helmet is its Conehead EPS Technology. It protects your head very promptly whether it is a low speed accident or the accident in high speed. Not only this, its chin bar is made from Expanded Polypropylene to provide extra protection to your chin and jaw areas at the time serious mishap.
Its ventilation system is also made unique. There are multiple intake air vent ports that passe air through the EPS air channels and drive the hot air out through rear vents. It has double D-ring closure system for perfect and safe retention.
Pros
Very impressive and lightweight helmet
Tri-weave composite shell
Premium quality comfort
Extra-ordinary ventilation system
ECE and DOT safety standards
Cons
Expensive dual sport helmet
Requires careful measurement for perfect fitment
Benefits of Wearing A Lightweight Dual Sport Helmet
Comfort and Agility
The lightweight nature of a dual sport helmet ensures a comfortable fit. And it allows riders to enjoy their journey without feeling weighed down. Additionally, the reduced weight enhances agility and maneuverability, particularly when navigating challenging off-road terrains or making quick adjustments on the go.
Cooling Performance
A quality lightweight dual sport helmet is designed with effective ventilation system. It has well placed vents and airflow channels to promote optimal air circulation. Because of this, there is no excessive sweating and also has coolness inside. In this way, it keeps the riders cool and focused even during long rides or in hot days.
Versatility
A lightweight dual sport helmets is built to excel in both on-road and off-road environments. This makes it appropriate for different types of riding experiences. Whether you are cruising on highways or tackling rugged trails, such helmets provide the necessary aerodynamics, adjustable visors, and stability to ensure maximum performance and protection.
Safety without Compromise
While being lightweight, dual sport helmets do not compromise on safety. They are crafted using advanced materials and construction techniques as per authorised and best safety standards. The combination of reduced weight and robust design ensures excellent impact protection. In short, they keep riders' heads shielded from potential hazards while maintaining their comfort and style.
Stylish Design
A branded and well built lightweight dual sport helmet not only prioritizes safety but also offers a range of stylish designs to suit individual personality. Whether you prefer bold colors, sleek profiles, or eye-catching graphics, these helmets give every options to riders to express their personal style. It results in boosting a rider's confidence on the track or road.
How to Buy a Lightweight Dual Sport Helmet
For those who want to enjoy both on-road and off-road riding, a lightweight dual sport helmet is the best option. Having said that, some helmets, even some dual sport helmets which are lightweight are not built properly. Therefore you must take some factors into consideration. The following guidance regarding these factors will help you to purchase a lightweight dual sport helmet.
Material
Material plays an important role in making any motorcycle helmet light or heavy. That's why, while choosing a lightweight dual-sport helmet you should the material from which its shell is made. The helmets made from Carbon or Fiberglass are generally lightweight. It doesn't mean that Polycarbonate helmets are are always heavy. Some high quality ABS (Polycarbonate) helmets are also lightweight. So, for lightweight dual sport helmets check that it is made of Carbon, Fiberglass or high-quality ABS material.
Safety
Safety is the most crucial factor you should remember when choosing a lightweight dual sport helmet. You should check the helmet safety certifications from the authorized organizations. The well known institutions like DOT, ECE, or Snell check the protection quality of the helmet and provide safety certificates.
These certifications indicate that the helmet meets certain standards for impact protection and durability. Some helmets also have additional features such as MIPS or conehead EPS technology that help reduce rotational forces or absorb impacts more efficiently.
Fit
The fit of the helmet is crucial for comfort and performance. A helmet must not be too loose or too tight. If so, it can not provide proper safety. Such a helmet will create only discomfort and nuisance throughout the journey. That is why proper fitting is important.
To find the right fit, measure your head circumference and compare it with the size chart of the helmet manufacturer. You can also try on different helmets and check for any gaps, pressure points, or movement. A snug fitment is better however, any type of discomfort in fitting is not acceptable.
Important Features
The features of the helmet generally depend on the brand and the cost. Your riding style and personal choice also play an important role. However, some common important features you must check are visors, face shields, sunshields, chin bars, ventilation, liners, cheek pads, and communication systems.
Visors and face shields provide protection from wind, dust, debris, and UV rays. Sunshields are useful for reducing glare and enhancing visibility. Chin bars offer extra protection for your jaw and chin. Ventilation helps keep you free from fatigue and comfortable by allowing air flow through the helmet. Liners and cheek pads provide comfort and moisture-wicking properties. Communication systems allow you to communicate with other riders or listen to music or GPS.
Style
The style of the helmet is a matter of personal taste and expression. While choosing a lightweight dual-sport helmet you can consider your favorite color, design or graphics. However, you should remember that some styles may affect the aerodynamics or functionality of the helmet. For example, a stylish face shield may not seal well with a large eye port or some fashionable shell design may not be aerodynamic.
QnAs regarding lightest dual sport helmet
Which is the lightest helmet?
When it comes to lightweight helmets, the Schuberth R2 Carbon takes the crown. This sleek and aerodynamic helmet combines comfort and safety while weighing in at a mere 2.75 pounds, making it an excellent choice for riders seeking a lightweight option without compromising protection.
Which is the lightest adventure helmet?
If you're an adventure rider looking for a lightweight helmet, the Arai XD-4 is worth considering. It is already popular among motorcyclists for its strength and quality maintaining its low weight. Weighing around 3.5 pounds, the XD-4 strikes a good balance between durability and reduced weight, making it ideal for long off-road journeys.
How much does an LS2 dual sport helmet weigh?
The weight of LS2 dual sport helmets can vary depending on the specific model. On average, LS2 dual sport helmets typically weigh around 3.5 to 4 pounds. However, it's important to note that different sizes and additional features may affect the overall weight of the helmet.
How much does a lightweight helmet weigh?
Lightweight helmets can vary in weight depending on the brand and model. Generally, a lightweight helmet falls in the range of 2 to 3.5 pounds. Factors such as materials used, construction techniques, and additional features contribute to the overall weight of the helmet. While desiring for a lightweight dual sport helmet we must not ignore the safety. A low quality helmet may weigh very less but it can not protect your head in accident. So, look for the quality and protective features too.
Conclusion
A lightweight dual-sport helmet is an ultimate choice for a comfortable and burden-less riding. In this article we suggested you some best dual-sport helmets which are not only lightweight but also having amazing protection and comfort features.
I hope that you will make your decision wisely with the help of this article and soon you will have your own lightweight dual-sport helmet for this season. Happy riding!